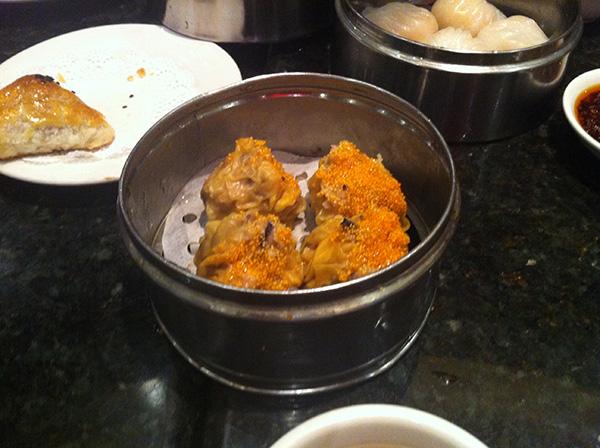 Ping Pang Pong
4000 W Flamingo Rd
Las Vegas, NV 89103
Hours of operation:
Everyday, Lunch (featuring Dim Sum):  10:00 a.m – 3:00 p.m; Dinner 5:00 p.m – 3:00 a.m
Waking up early to eat breakfast can be a struggle, but Ping Pang Pong is worth the time. Located just outside of the strip, in the Gold Coast Casino, Ping Pang Pong serves an authentic chinese Dim Sum.
Dim Sum is a small portion of food that is served in steamers or plates, depending on what kind of dish you order. They usually come in different varieties. Unlike restaurants where you have to choose your food from a menu; Dim Sum is preserved on hot carts where the waiters would push it around and you are able to choose the dishes you want as it passes by.
On the day I visited Ping Pang Pong, I noticed the wait was very long. It was around noon when I got there and the line already wrapped around the side of the restaurant. Thankfully, my friend's mom was already there and reserved us seats. Compared to the other restaurants in the casino, Ping Pang Pong was smaller. With two main areas where people can eat.
When I sat down, I noticed how crowded the venue was. With hot carts everywhere and tables filled with customers, there really wasn't much room to walk and sit down in your seat without saying, "excuse me." Eventually, the food made up for the crowdedness.
My friends and I got the Shumai, which are steamed dumplings that are stuffed with vegetables and seafood. The portions at a Dim Sum are small, so if you are with a larger group, I recommend getting two. The Shumai was really good, it wasn't dry and it tasted a lot better than the others that I have tasted. Then we ordered the Har Gow (shrimp dumplings). Personally, it was okay, but it wasn't the best. When I tasted the shrimp dumplings, it felt like I was eating nothing, as there was so taste whatsoever. I recommend chili sauce because it adds a kick to it. If you don't like spicy, you can try putting some soy sauce to boost the taste. After that, we ordered Sai Pao which are steamed pork buns. You can tell it was fresh, since the buns were soft. The pork inside of the buns were tender and the sauce inside of it was very sweet, not salty.
Overall, the dishes were delicious and well prepared. Also, the food was well priced and the service was great. The pricing depends on what dish you get because some are cheaper than the others. In my case, I was in a party of five and we had to pay $35-$45 in total.
Ping Pang Pong not only serves Dim Sum, but dinner as well, I personally haven't tried it yet, but judging from my experience with their Dim Sum, I'm pretty sure it wouldn't be a disappointment. I recommend anyone to try their Dim Sum if you want a satisfying breakfast to start off your day; just remember to wake up early to beat the line.