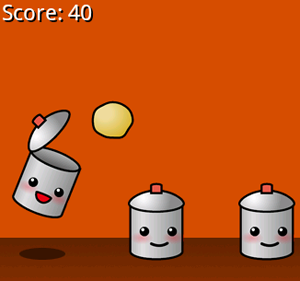 ActionPotato is based on a simple concept of touching pots to catch potatoes and fill "stockpots" to earn points, while consecutive potato catches add to the combo counter earning even more points. The only goal is to catch potatoes, fill the stockpot, and earn points because there are no levels, but achieving higher scores on the online leaderboard.
The soundtrack is bubbly and fascinating, almost childish, because of its spirited energy and easy going tunes. The little pot characters are simplistic, but adorable because of their contagious smiles and the little noises that they make. The gameplay is nearly effortless, as you just have to catch the potato and avoid rotten ones, but if you happen to catch a rotten potato, you lose a pot, and if you miss a potato, you lose points. You can catch a heart item to restore one of the pots, but if you lose all three, the round ends. Also the amount, speed, and the frequency of rotten potatoes gradually increases as your score gets increases.
The game is charming and addicting, but if you get bored of playing you can listen to the music and look at the cute pots. The newest update, released on March 28, 2013, fixes some minor bugs and requires iOS 4.3 or later.
Pros:
Soundtrack is fun and full of energy

Characters are likeable

Addicting concept
Cons:
Only online leaderboard

Very simple

Graphics could be better