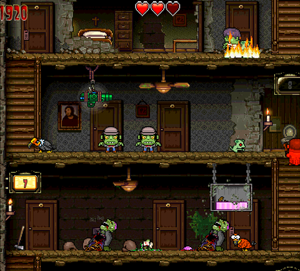 Recently released, Crazy Bill focuses on surviving through multiple traps and hoards of zombies as the game avatar advances through a series of stairwells and elevators. Seemingly retro with its classic animations, Crazy Bill appears to be an entertaining app, but its concept is relatively boring.
There are two controls within the game: shoot and jump.  There is an assortment of guns you can use to shoot, ranging from the classic short ranged pistol to the destructive SMG. Jumping is also just as difficult as shooting, considering it requires exact timing to double jump past an assortment of traps like ceiling fans and fires. If you fall into a trap or if you are bitten by a zombie you will lose one of your three lives.
With only two controls, playing the app seems to be a breeze, but the timing needed to perform each task is tremendously difficult which can often cause frustration. Furthermore, the actual gameplay is extremely boring with repetitive stages and only a handful of weapons to help alleviate the boredom. Its tedious game play and lack of exciting animations may make some think twice before obtaining Crazy Bill.
Pro:
retro animations
simple controls
assortment of tools

Ice Gun, Donut Boosts, Grappling Hooks, Fire Extinguisher,
Cons:
difficult to control the game
boring gameplay
Download: iOS