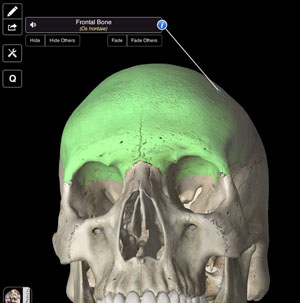 The free app, Essential Skeleton, allows users to study the human skeletal system. Created by 3D 4 Medical, this program is mostly used for medical study. Users that have downloaded Essential Skeleton have the opportunity to study bones almost as well as having a full-size model in front of them.
It's amazing how good the quality of the graphics are considering the fact that this app is free. This app allows the user to zoom-in, zoom-out, write notes on the bones, rotate the skeleton 360 degrees, and view the skeleton at different angles. When the user double taps on a specific bone, the bone will zoom-in and be highlighted with its name displayed in English and Latin, and the option to hear an audio of the Latin name, and learn about the connected bones. On the side menu, users have the option of looking up all 206 bones their location and all of the regions of the human skeleton on a list provided.
With Essential Skeleton, you have the opportunity to share your discoveries on Twitter, Facebook, etc. Studying the skeletal system just got a little bit easier and a bit interesting.
Pros:
Ability to write notes

Does not lock the screen if the user does not touch the screen for a long period of time

A good way to study anytime, anywhere
Cons:
Hard to distinguish between bones

The zoom-in feature is hard to control

If you do not know the area in which a bone is located, it will be hard to find it
Download: iOS