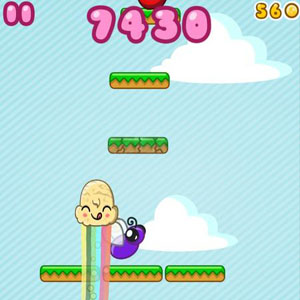 Ice Cream Jump revolves around a joyous Ice Cream Scoop whose dream is to soar in the sky. Players pass through obstacles gathering coins to jump the high altitudes to gain more points.
Ice Cream Jump involves interesting characteristics such as blue skies, moving or broken platforms, and angry flies for players to evade. Players are also given the chance to collect coins and apples, receive power-ups and boosts, and earn accessories and new characters from the Ice Cream Jump Store. Throughout the game, players tilt their device to dodge the purple flies and navigate the ice cream scoop onto a platform while still being aware of the many coins and apples to be collected. By collecting enough coins, players will be able to buy exciting new ice cream flavors such as candy cane for Christmas, Lover's Red for Valentine's Day, and Easter egg for Easter. Along with new flavors, players can purchase accessories, including a cat ears, a fancy top hat and monocle, and so much more. New boosts have been added to improve your gaming experience, and you receive coins when you knock out the flies.
The objective of the game is easy: collect as many coins as possible, jump to the highest altitude you can, and knock out the flies before they knock out you. As great as this game is, there are a few issues including unequal spacing of the platforms, the game often glitches or freezes, and flies moving too quickly resulting in an instant death. This game is often frustrating because dying by the wings of the flies is far too easy as the Ice Cream Scoop reaches higher altitude and when one is trying to achieve a high score, dying is the last thing he or she wants. Addicting and easy, you won't be able to put your phone down, this game is that fun to play.
Pros:
Very cute graphics
Offers many power-ups and coins
Being able to select different ice cream flavors and accessories
Cons:
Unequal platform spacing
Extremely tilt sensitive
Crashes on occasion