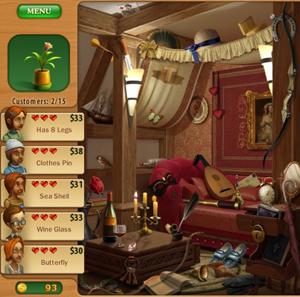 Gardenscapes: Mansion Makeover is a new innovative interior design game intertwined with fun I-spy puzzles to complete and gain coins. With over 60 I-spy puzzles and 3000 hidden objects to find, there should never be a dull moment.
The game starts off with an instructional clip that explains the storyline. Austin Butler bought an old mansion and needs help choosing wallpaper, couches, floors, etc. Although a large part of the game is based around designing the hall, that is not only focus. Once the hall is completely renovated, players complete different, unusual tasks, such as getting the dog in the house, answering the phone, giving gifts to people, etc. While playing the game, players can notice the extreme detail from the way that characters talk, to the detailed I-spy games. The detail adds to the game play, and keeps the players in suspense. The game is fun, but once players reach a certain point in the game, the only way to continue playing is buying it. This can be a drawback and may cause some individuals to uninstall the game once they reach this point.
Pros:
Superb graphics.

Characters are details and speak to players on a personal level.

Great, detailed instructions.
Cons:
Slow reaction time once item is found.

Not many choices for furniture.

Once you pass a certain point you have to buy the game.