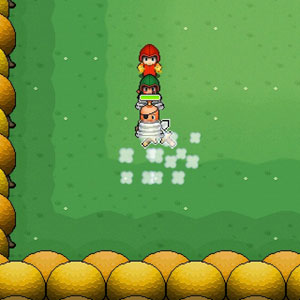 'Nimble Quest' features a whole set of admirable characters that you must protect and eliminate against countless opponents. The game involves guiding the game's characters in a series of stages against your rival's army. Using your fingers, you must steer a line of heroes through an open plain, while also avoiding walls and enemies and thus adding to your current line of heroes.
While this game is entertaining, unfortunately, it became boring quickly. Fighting the same enemies and protecting the same heroes over and over again was repetitive. There was no challenge whatsoever, mostly because you cannot adjust the level of difficulty and the levels of the game were too easy. Additionally, they should have made the setting for the game a bit more interesting than just a plain open space.
However, the game and its characters were unique. This is a good factor, because it keeps the player wanting to keep playing the game to unlock more characters. 'Nimble Quest' draws the players to want to earn higher scores to earn more characters and heroes.
Pros:
Good graphics and characters
Unique game instructions
Cons:
Dull setting
Repetitive levels