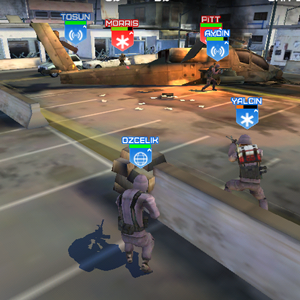 Recently released, Rivals At War is catching the attention of many students as it tests the strategic skills of the players. Using various tools such as character cards, the players use their wits in attempt to defeat each other in battle.
The goal of the game is to conquer rival teams in action packed battles as characters engage in intense gunfights. In order to win, players need to strategically plan their attack, such as preparing the soldiers. Each battle you fight gives you the chance to earn coins that can allow you to buy whatever you need in the shop. Buying new characters from the store can provide an edge in battle. Training soldiers is also important as the player chooses which aspect of a character will level up. Whether it be speed or accuracy, training can improve the overall performance of the character during battle.
Rivals at War does have action in the battles, but it is simply too complicated to be an entertaining game, although it requires too much planning in order to win the battles. Training the soldiers requires relatively long amounts of time. In case of a loss, you also need some time to heal your soldiers. In addition to the time restraints, Rivals at War revolves heavily around actually buying the various character or tactics cards.
Pros:
Cons:
hard preparing for battle

requires time to heal/train

needs WiFi to play