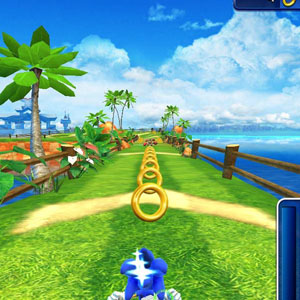 Sonic Dash is a new and fast paced game that will test your reflexes. With the swipe of a finger, Sonic will run, jump, and dodge the obstacles, such as crabs and logs. To gain the highest scores, Sonic must run for as long as he can. Along the way, collect the coins to buy helpful things in the store, such as "headstarts" and "revivers." Although this game is similar to other games, such as Temple Run, Sonic is more fast paced.
Randomly, after some rounds, Sonic may earn red coins. The red coins are used for unlocking special characters, such as Tails, Amy, and Knuckles. Also during the game, mystery boxes will appear. If Sonic hits one of them, a magnet to help collect the coins will be activated for a short while. To make the game even more fun, complete the optional missions that appear in the game.
In my opinion, the background music, as well as the 3D environment in general, brings the whole game together with the beat variations within the cycle of the song. The 3D visuals gives the game depth and makes it feel more realistic than most games. On the downside, it takes a lot of red coins to unlock a new character. Also, there are not a lot of items to buy. Even though the game has these problems, I still highly recommend it.
Pros:
There are hints after every game over

Good graphics

Music

Easy to learn
Cons:
Takes a while to earn enough red coins to unlock new characters

Not a lot of options in the store

The missions are not shown at the beginning of the game
Download: iOS