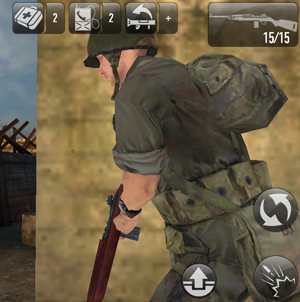 Recently released, Frontline Commando: D-Day is an exciting game that tests many skills, from aiming to strategizing, as players combat enemy soldiers on the battlefields of WWII.
The main goal in the game is to achieve victory during each mission by killing enemy soldiers and destroying tanks. Players can use various weapons, from rifles to rocket launchers, to help them travel throughout each level. During the battle, players have to maintain their focus since they would have to maneuver through many obstacles by swiping upwards on the screen, otherwise there will be time delays that will prevent the completion of certain objectives. Each round has missions and upon completing the tasks, the player obtains bonus prizes that can help them buy better weapons at the store.
Although, D-Day can get repetitive as nearly every round shares the same gameplay. Additionally, the game heavily relies on real money to purchase gold bars to help buy the weapons. Despite some limitations, it is a pretty entertaining game with its variety of guns, interactive gameplay, and simple controls.
Pro:
Assortment of weapons

Interactive gameplay

action packed battles

easy to play
Con:
repetitive

relies on real money