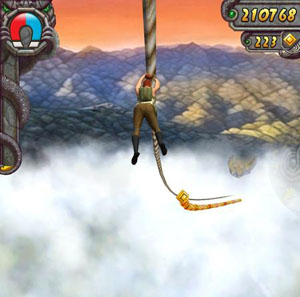 Temple Run 2 includes new features such as cliffs, mines, zip-lines, and forests for players to navigate their way through. Players also have the opportunity to complete objectives, earn specific power ups for different characters and be chased by a bigger, scarier monkey this time around.
There has been some drastic upgrades to the original game allowing players to complete objectives, such as reaching a score of 1,000,000 or falling off a cliff ten times, while playing the game. Throughout the game, players tilt their device to dodge obstacles such as fallen roof tiles while still being aware of the narrow pathways that some parts entail. Along with tilting your device to dodge specific items, players need to use their fingers, sliding up or down, to jump and slide under logs, broken bridges, and holes in cement walls.
Temple Run 2 is simple to play; once players get the hang of the it, they can gain coins and increase their scores. The game is great to play, but there are mild gameplay issues including unintentionally falling off of cliff's, due to the lag in the system game reaction time that does not allow the player to turn when needed resulting in 'GAME OVER.'
Grade: A+
Pros:
Objectives added and difficulty level increased.
Being able to choose different characters with specific power ups.
New graphic details and quality of the gameplay.
Cons:
Random narrow pathways.
Sensitivity levels.
Glitching near turns and drop-offs.