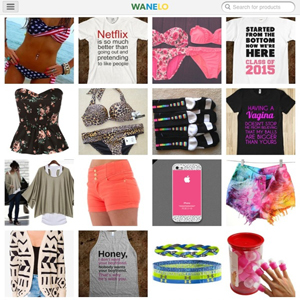 Wanelo is the new dream app for any fashionable girl with a loaded credit card or a great imagination. Easy to use, yet slightly redundant in its posts, this app is great for browsing fashionable items at your will.
Summing it up in two words, Wanelo is a shopping app. You scroll through the home page which contains pictures of clothes, shoes, bathing suits, etc. that clothing websites such as Charlotte Russe, Tilly's, or even Victoria's Secret  will put up on Wanelo. If you see something you like, then you click the save button below the picture to save it to your wishlist, making it easier for you to return and purchase the item later. Although Wanelo is updated frequently with new items, many of the pictures are copied, and you will often see the same item more than once, which can get annoying.
Much like any social network nowadays, your account can be followed by others and likewise. You can follow your favorite fashionista's accounts and view their saved images to find what's truly worth buying. This app is perfect for anybody who loves clothes, or even the funky knick-knacks that sometimes get posted. It is a great way to spend your time and money.
Pros
*Hottest styles are posted
*You can save items without buying them
*Its a free app
*Great for gift ideas
Cons
*Many pictures get reposted
*Prices are largely varied
*You can't stop people from following you