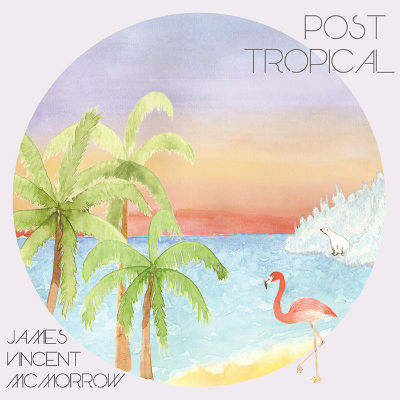 Fit with enticing vocals and creative instrumentals, James Vincent McMorrow's second album is a twist on his usual forte, which is folk music. Breaking the typical cliché of folksy bearded men who play guitars, McMorrow's Post Tropical sends listeners to a dreamy, atmospheric, and soulful world, where each sound is a reflection of a fresh, thought-evoking genre.
Diving into the world of music in his college years, McMorrow began as a percussionist who eventually learned how to sing and play the guitar and piano. Originally from Dublin, Ireland, this multi-talented maestro landed a record deal with indie-rock label Vagrant Records. He released his first album, Early in the Morning, in Ireland in March 2010. With his debut a success, it led to his own Irish tour, with a sold out show in Dublin.
This 10-song, 40-minute album presents immersive storytelling through melodies, harmonies, and lyricism.  Similar to a plot in literature, each track in Post Tropical is dynamic. The fast tempo of the snare drum in the beginning of "Gold" anticipates an upbeat melody, but once the vocals commence, the music takes a sudden ritardando (gradual decrease in tempo).
The lyrics in Post Tropical illustrate vivid plots, such as in "The Lakes", with the lines, "Stow it away for words for dream…Then in the quiet it calls again…And down to the lake where we last go." Throughout the entire album are songs that originate from either McMorrow's past or his imagination, establishing an emotional connection between the art and artist. With this bond, his painful mourning is evident within "Cavalier" in the lines, "I remember my first love," with the faint strength that resides in his voice.
McMorrow's Post Tropical is not the best of just both worlds, but of several. Blending opposite genres such as R&B and folk, McMorrow created a vast expanse of truly unique music.
[soundcloud url="https://api.soundcloud.com/tracks/125721935″ params="color=ff5500&auto_play=false&show_artwork=true" width="100%" height="166″ iframe="true" /]