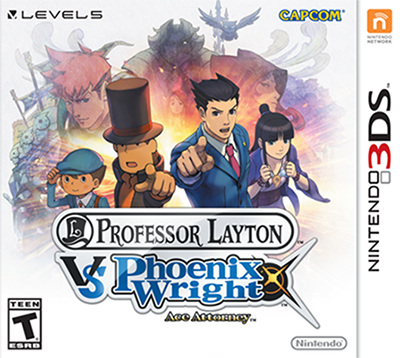 Proposed by the CEO of Level 5 himself, Akihiro Hino pitched the idea to have the London-born puzzle investigator Professor Layton and his assistant Luke Triton meet the American-born defense attorney extraordinaire Phoenix Wright and his assistant, a spirit medium in training, Maya Fey. Professor Layton VS. Phoenix Wright: Ace Attorney may not have seemed like a collaboration that should have happened, but the hint of it at Tokyo Game Show 2011 and an accidental tweet sent out by Jiro Ishii of Level-5 placed the game in immediate development.
Forced to go to London by an unknown force, Espella Cantabella is led to Layton and his assistant Triton by one of Layton's previous apprentices, Carmine Accidenti. It is revealed that Cantabella is not of this world and is from the ancient city of Labyrinthia, speculated to be pre-historic London. The only word of it is written in a single book titled "Historia Labyrinthia," a book that only she is seen with and is what brings Layton, Triton, Wright and Fey together in the ancient city where the player will take on Layton's ability to solve puzzles and Wright's attorney position to help Cantabella be proven innocent and dismiss her scheduled execution for the accusation of being a witch.
Professor Layton VS. Phoenix Wright: Ace Attorney limits the player to one game mode, but the user takes on the role of both Layton and Wright by alternating between the two, chapter by chapter. There is no change on how the role of Layton is played, but in a different country and time period, Wright is exposed to a new system of law.
Like other Professor Layton games, the player guides Layton through the city and searches through a fixed area to find clues. This clue either comes in the form of a puzzle that will either be found by searching the area or by speaking to a bystander.
The role of Wright takes the role of a defense attorney who works to solve a case by presenting evidence to find a contradiction in a witness' testimony and pressing a witness to reveal more about the case, but the change in the time period forces the player to cross-examine more than one witness at a time and use testimony against another to find a contradiction or identify new evidence.
I will admit that Professor Layton VS. Phoenix Wright: Ace Attorney is not what I expected. I expected the game to be quick. Quick enough to be a waste of one's money. The E3 trailer gave a person enough information to draw a conclusion on what the game may be about and how it would end. I assumed that both Layton and Wright would be placed in Labyrinthia from the start and the two would work to prove the innocence of Cantabella with Layton's puzzles incorporated in the courtroom. If the game chose to take that route, I would not have rated it with an A.
I may not be be a fan of the Professor Layton franchise since I cannot solve a puzzle in a reasonable amount of time or solve one on the first try, hence the reason I seemed reluctant to try this game, but the transition between the role of Layton and Wright pushed me to continue the story and I can say that I greatly enjoyed it. I have no complaints about this game. Even the animation of the cutscenes are smooth and adds to the story instead of simply being there to progress through a part any player could easily play through, something that often harms the rating of other games.