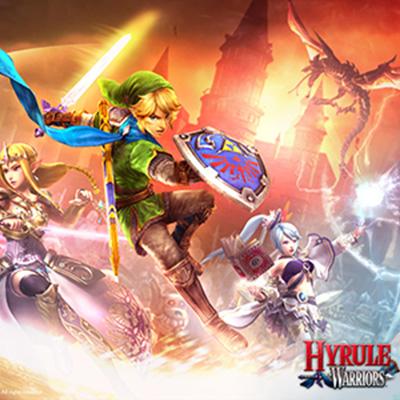 Any game associated with the name "Zelda" is expected to follow the traditional adventure style of the Legend of Zelda series, but with w-Force and Koei Tecmo's Dynasty Warriors being the inspiration, Hyrule Warriors manages to pass with flying colors as an all-action spin-off of the original series.
The game is set in a time outside of the official Zelda timeline. Long ago, Ganondorf was defeated and his soul split into four fragments. Ganondorf plotted his resurrection through Cia, a sorceress who became fascinated with the spirit of the hero of legend and opened the Gate of Souls, a portal to a different time-space reality of Hyrule, to amass an army of monsters. Seeking to conquer Hyrule, Link and his comrades must fight to protect it.
The story is easily ignored, but the way that it successfully ties three Zelda games together with an inter-dimensional crossover is worth noting.
That aside, Hyrule Warriors is all about fighting. The process of killing your way through enemy armies is repetitive, but what keeps it from getting too boring too fast are devastating special attacks that launch enemies into the air. This was especially fun whenever a mass amount of enemies would appear on-screen. I found it satisfying to make them fly and watch the number of simultaneous KOs flash on-screen.
The diverse roster is the peak of this game. The ability to fight as the 13 iconic faces of the Zelda franchise, including the princess herself, further enhanced the game's enigma—especially with each character coming with their own unique line-up of weapons and abilities. My favorite part, though, is that it allows the player to unlock and switch between a number of characters.
Though unpredictable, the introduction of a crafting system adds remarkable depth to the game. It is difficult to use with the amount of possibilities it has, but it provides a cornucopia of tactics that serve as necessary throughout the game. What I found more difficult is replaying a stage several times to farm for materials, but it allowed me to build equipment that strengthened character combos, weapons and special abilities.
The addition of customized badges also serves as an essential aspect, as it makes a character more resilient. I consider this to be the best feature as it allowed me to play my favorite character, Midna, at her fullest potential, something I've wanted to do since the release of Twilight Princess in 2008.
Excited to discover how a boss fight would play out, I was disappointed at how it became more of a chore rather than a challenge. The Dynasty Warriors framework offered impressive scale, but the oversized foes are a weak tribute to their inspiration. Without a set tactic to defeat the boss, the battle lasted longer than intended, which lost the fearsome image Nintendo built and became tiresome rather quickly.
For a game in development for only a year, Hyrule Warriors did a remarkable job of tying together the combat style of Dynasty Warriors and the distinctive characters and lore of the Legend of Zelda series. Character customization, weapon switch-off, quest satisfaction and an alternative story-line made this spin-off a notable addition to the typically serious Zelda series.