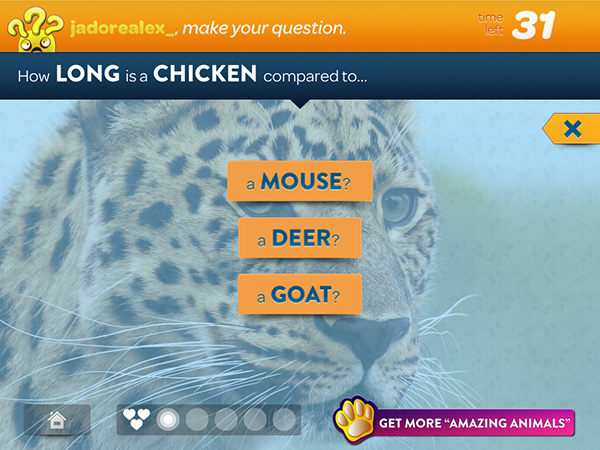 Questimate is a fun free app where the player creates their own questions and receives tokens according to their accuracy. An exciting brain game, Questimate is an enjoyable way to test your knowledge.
Once you click on one of the games, you will be transferred to a screen that will contain different question starters. For example, "How long is…" or "How tall is…" Once you choose one, more parts of the question will arise. If you choose "How tall is…" then you will receive some subjects such as "A brown bear," "A bunk bed," "A beaver," "A turtle," etc. and then another set of options to compare it to. So in the end you will have created a question like, "How tall is a bunk bed compared to a chicken?" You must then answer the question as accurately as possible.
As with many other games, you can play different versions or levels of the game according to your token count. The more tokens you have, the higher levels you will obtain. The game begins on the home screen which contains the five different question selections you can play. The original "Around the House" questions are free, while the other options such as history, electronics, and countries require tokens.
The more you play the game, the more addicting it becomes, and while it is entertaining, it is also educational. This app is easy to use, but it does require a small amount of brain power. For anybody who loves a slight challenge and hysterical questions, this app is for you.
Download: