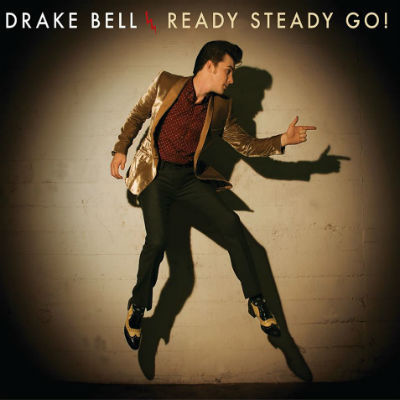 Pop rock artist Drake Bell releases his third studio album "Ready, Steady, Go!", which has a pop rock modern twist on the classic sound of 50's rockabilly music. Bell succeeds in encouraging me to travel back into the 1950s, dress up as a Pin-Up girl, and do the Jitterbug.
Being a solo artist, Bell provided many aspects of the instrumentals himself, knowing how to play the guitar and organ. However, he also had the aid of others as well, such as Chad Cromwell on the drums, Dominic Davis on bass, Jody Nardone on piano, and Tim Hayes playing the fiddle. Despite "Ready, Steady, Go!" being his third studio album, it serves a role as being the first of his to be released by Surfdog Records.
Based upon the sound of 1950s music, Bell's album circulates around themes of romance, heartbreak, and adventure. Lyrics like "If I were a bull, you'd be my China shop/ Break everything," in rockabilly-based track "Bull" expresses one's dissatisfied feelings with a lover. Regardless of Bell's lyrics of anger and distaste, the instrumentals differ far from the message as they are eccentric and encourage the listener to tap their feet.
A mixture of Elvis Presley, Buddy Holly and The Arctic Monkeys, Drake Bell manipulates the signature aura of the 50's and makes it into a modern classic. What makes Bell's compilation so vintage is his incorporation of covers of timeless signature songs of the past. Well known songs such as "A Crazy Little Thing Called Love" by Queen and "It's Still Rock and Roll to Me" by Billy Joel are included on the album, which ties in the past of music into the present. Opening track "Sunny Afternoon" was originally performed by The Kinks, however, it can be easily mistaken for an old-timed classic for it's 50s-esque lyrics. "Save me, save me, save me from this squeeze!/ I got a big fat momma trying to break me!" in the opening track mirrors the lingo of the "poodle skirt" era, while keeping it upbeat with vivace guitar riffs and clever usage of the fiddle.
Bell's "Ready, Steady, Go!" successfully bringing back a long forgotten era and making it into something new. For best results, bring out the record player, place the needle on this LP, and hear the timeless sound of the crackling of vinyl.