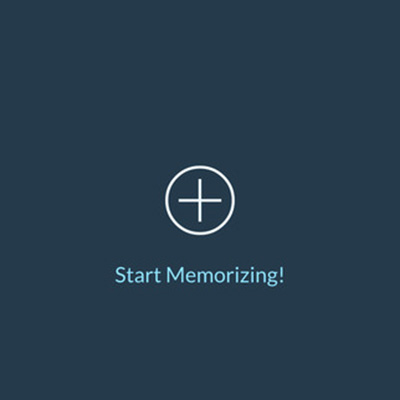 Whether you are studying an algebraic formula or memorizing a famous soliloquy from "Hamlet," "Memorize It" permanently alters the practice of saving information in your brain. Rather than staring at the displayed data and desperately hoping that it stays branded to your eyelids, this new app provides an easier and far more fun way to hold tight onto characters of text.
Upon opening the app, the user will be taken to a calm blue screen and a tab that is used for entering text. After submitting the text, each word will be displayed in its own oval. In order to efficiently memorize whatever is desired, the user must tap on each word, which will cause a letter to disappear; tapping them again will result in the letters displaying once again. Although tedious and somewhat redundant at times, the app truly embeds information into the brain. It appears as though the app encourages memorization by the way of practicing eidetic (photographic) memory.
While the app lacks other tasks and functions, such as a library to save documents, it is still an essential to those who fancy new methods of study and practice. Through my eyes, its straightforwardness is seen as both a benefit and downfall. It lacks clutter and provides a quick study session; however, the study session is the only activity that the app offers. A suggestion would be to add more attributes, such as sharing text through various users and a place to save all submitted text.
The app's simplistic and efficient design calls for a quick study session that could rival any lesson with an afternoon tutor. Many use the daily ritual of staring at a study sheet, which can be adequately effective half of the time. With "Memorize It," anyone can confidently recite data without a hint of hesitation.
"Memorize It" eliminates the days of hopeless staring at worksheets, as it quickly provides users with a mobile study guide that fits in the palms of your hands. Free on the Apple store, this app serves as a vital talisman in the world of students and adults alike.