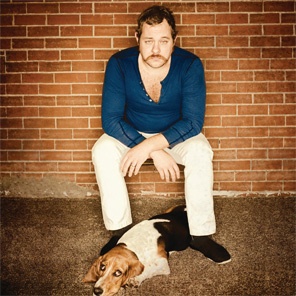 Ending off 2013 with a heavy and unrefined album is Nathaniel Rateliff with Falling Faster Than You Can Run. This album describes all of his hardships throughout the past year, all of the misdemeanors he is tempting to forget. The music, as well as Rateliff's voice, is incredibly beautiful in a melancholy way, and this album will surely bring you to tears, both of joy and of sadness.
"I Am" is one of the softer, yet most significant songs on the album, and the total abandon displayed in this song is tear jerking. This song holds deep emotional and personal meaning, as it is the authors way of coming out to the world with his homosexuality and the past hurts he has experienced. The entire song is a metaphor for his relationship with himself, his partner, and the world. "Nothing to show for" is the only significantly faster song on the album, and it reflects Rateliff's true passion in regards to his music and the people who discard him as a singer. He claims that although the odds are against him, and although he is not as well known as other artists, he has reached a level of self accomplishment that he is comfortable with and the people who deny that are ignorant.
This album is a beautiful way to wrap up 2013 in a musical sense. Many artists don't reach the level of vulnerability pursued in this album, and it was both emotionally touching and musically brilliant. This album truly displays the rawness and the burdens this artist has suffered through, and it allows the listener the pleasure of growing and grieving with him.
[soundcloud url="https://api.soundcloud.com/tracks/107699867″ params="color=ff6600&auto_play=false&show_artwork=false" width="100%" height="166″ iframe="true" /]