5255 S Decatur Blvd, Ste 107
Las Vegas, NV 89118
Sun-Sat: 1 p.m.-12:30 a.m.
Credits cards accepted
Does not accept reservations
In an attempt to find a café for dessert after dinner, I came across The Patio while driving back home. I've only seen the café on my friend's social media and it looked like a relaxing place to have a sweet treat. From what I saw in photos, I thought it was going to be an outdoor café, but it turned out to be indoors.
I walked into the café with my sister and was immediately greeted by an outdoorsy environment along with the smell of freshly brewed coffee and baked pastries. The seating area was covered by a faux patio cover and vines to give off the vibe of being outside—something I've never seen in any other dessert place. My sister and I were quickly seated by one of the waitresses and was handed a paper menu which surprised me as I never received table-side service at a café.
After looking at the menu, my sister and I ordered two beverages and two desserts. The first item that came out was the original Hong Kong waffle with bittersweet chocolate ice cream ($7.95). All of the Hong Kong waffles are served with a choice of ice cream made in shop daily to ensure freshness. Hong Kong waffles are egg-based and have spherical pockets of air like bubble wrap. I ate one of the "bubbles" and was met with a crispy shell and a light, airy dough inside. The sweetness came from the powdered sugar and fruits on top. On the other hand, the ice cream tasted like a cross between milk and dark chocolate which was perfect for my taste buds, since I'm not a fan of overly sweet desserts.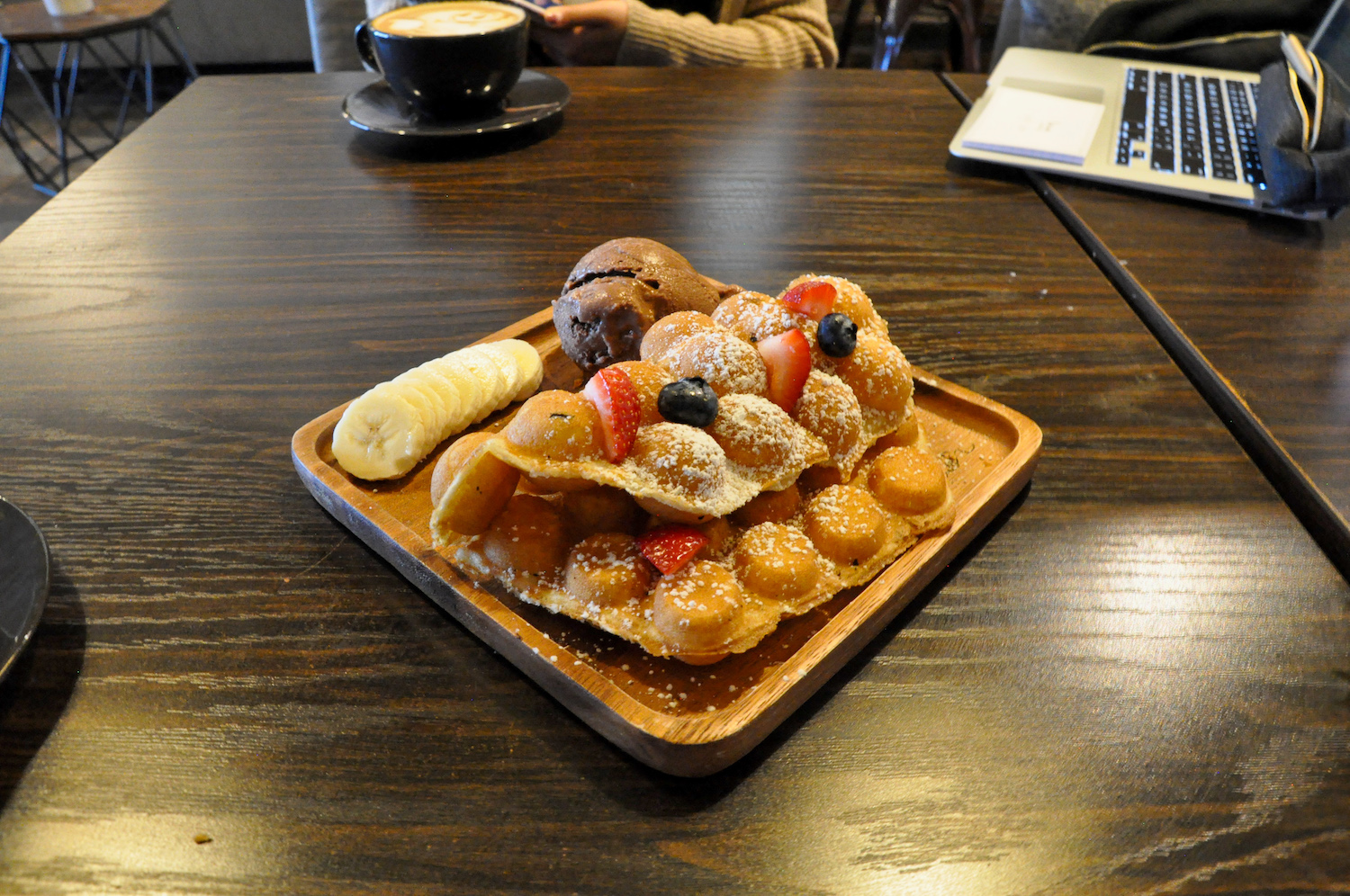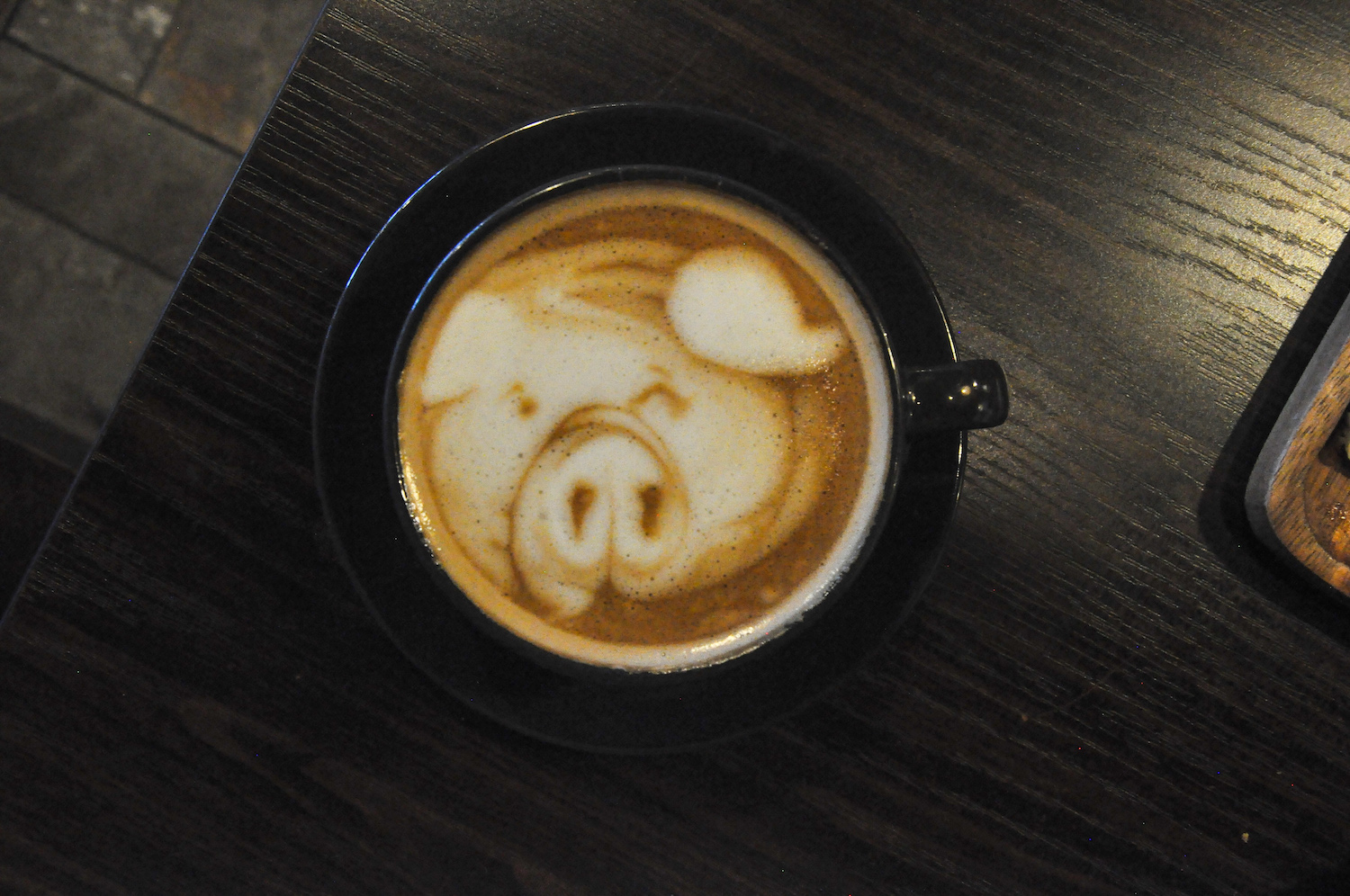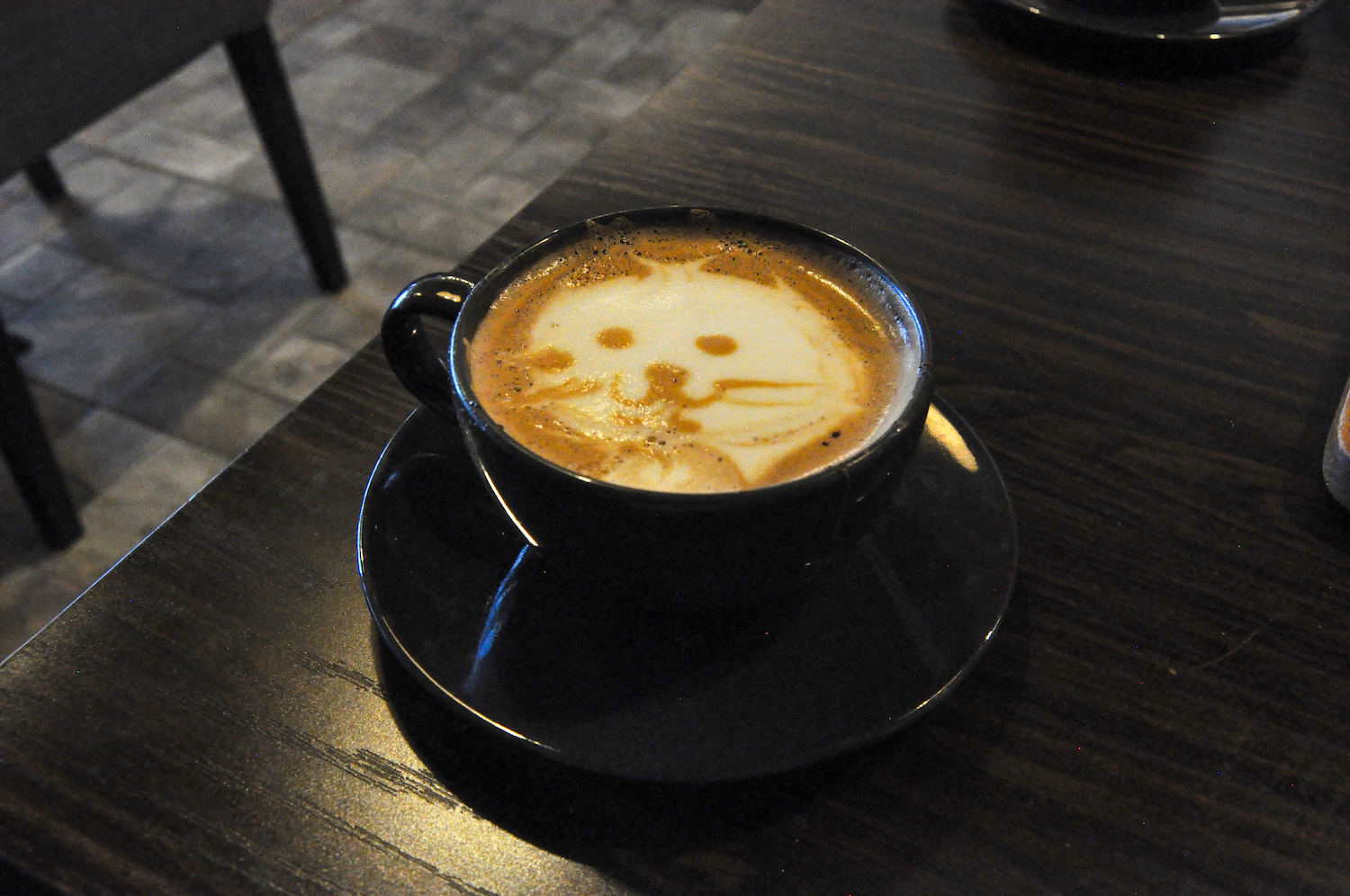 In the midst of enjoying the waffle and ice cream, my sister and I's drinks came out. She ordered a vanilla latte ($4.25) while I had a Nutella latte ($4.25). Both drinks had latte art on top which was an eye-catching way to present them. My Nutella latte tasted like any other latte at first, slightly bitter with creaminess from the steamed milk, but I also tasted hazelnut and chocolate as I continued drinking. I'll be sure to add a little bit of Nutella the next time I make a latte at home. My sister's vanilla latte tasted similar to Starbucks' white chocolate mocha, but wasn't as sweet. The espresso was stronger than mine, but was balanced out by the vanilla flavor and milk. 

The last item I ordered was the Thai tea cake ($5.95). Like all of the other desserts The Patio has to offer, the cake was presented on a wooden plate, making me think that they were aware of plating their desserts for Instagram. The cake took on the orange color of Thai tea which lead me to believe that it was created with the actual drink, and sure enough, it was. The cake was served with a Thai tea cream sauce, half a strawberry and a couple blueberries on the side. By itself, the cake was moist and too sweet for my taste. With the extra sauce, it was even sweeter, but the flavor of the tea was more prominent. The icing on the cake had the consistency of a gelatin, but melted once I consumed it.

Despite only having one location in the valley, The Patio is worth the drive if you're craving sweet, Asian-inspired desserts. While the café has an outdoor-like atmosphere, it is still calm enough to where you can get caught up on school work or study. Unless you have a major sweet tooth, I don't suggest ordering two desserts and a cup of coffee just as I did.

[poller_master poll_id="977″ extra_class=""]