8030 S Rainbow Blvd
Las Vegas, NV 89139
Mon-Sun: 7 a.m.-12 a.m.
As I drove to school for the past several months, I noticed a new building was under construction near campus. Day after day, week after week, the building progressed and took on a post-modern architectural look, so I figured it would be a small store or a cafe, similar to the other businesses in the surrounding area. But finally, the sign was put up and revealed that Jollibee was the newest restaurant to join our community.
Being a Filipino fast-food restaurant, Jollibee is known for items such as their fried chicken and Palabok, a type of noodle dish. Filipino cuisine normally consists of items like chicken, beef, pork or seafood that is fried, baked or prepared in a soup. On the more exotic side, dishes can include pork blood or even goat bile.
While I waited in line along with half of my school's population, a speaker blasted music near the entrance of the restaurant, making it difficult for my friends and I to talk to each other. While ignoring the loud music, I noticed the interior of the establishment had a modern take to match the exterior. Originating from the Philippines, I saw that the menu had some of my favorite dishes and persuaded my friends to try some of them with me.
The first item I ordered was Palabok ($5.79), an authentic Filipino dish that I loved ever since I was a kid. Palabok is similar to spaghetti, in terms of components; however, it is made with different ingredients like rice noodles and a sauce reminiscent of shrimp paste. When it arrived to the table, I was immediately overwhelmed by the strong appetizing smell. I opened the container and saw that it was topped with a boiled egg, shrimp, dried garlic and numerous other seasonings. I took a forkful of the noodles and was brought back to my childhood. The shrimp-flavored sauce adhered itself to the noodles, making for an all-inclusive bite. The fried garlic added a slight crunch to the al dente noodles making for a contrast in texture and the yolk from the boiled egg incorporated an overall creaminess to dish.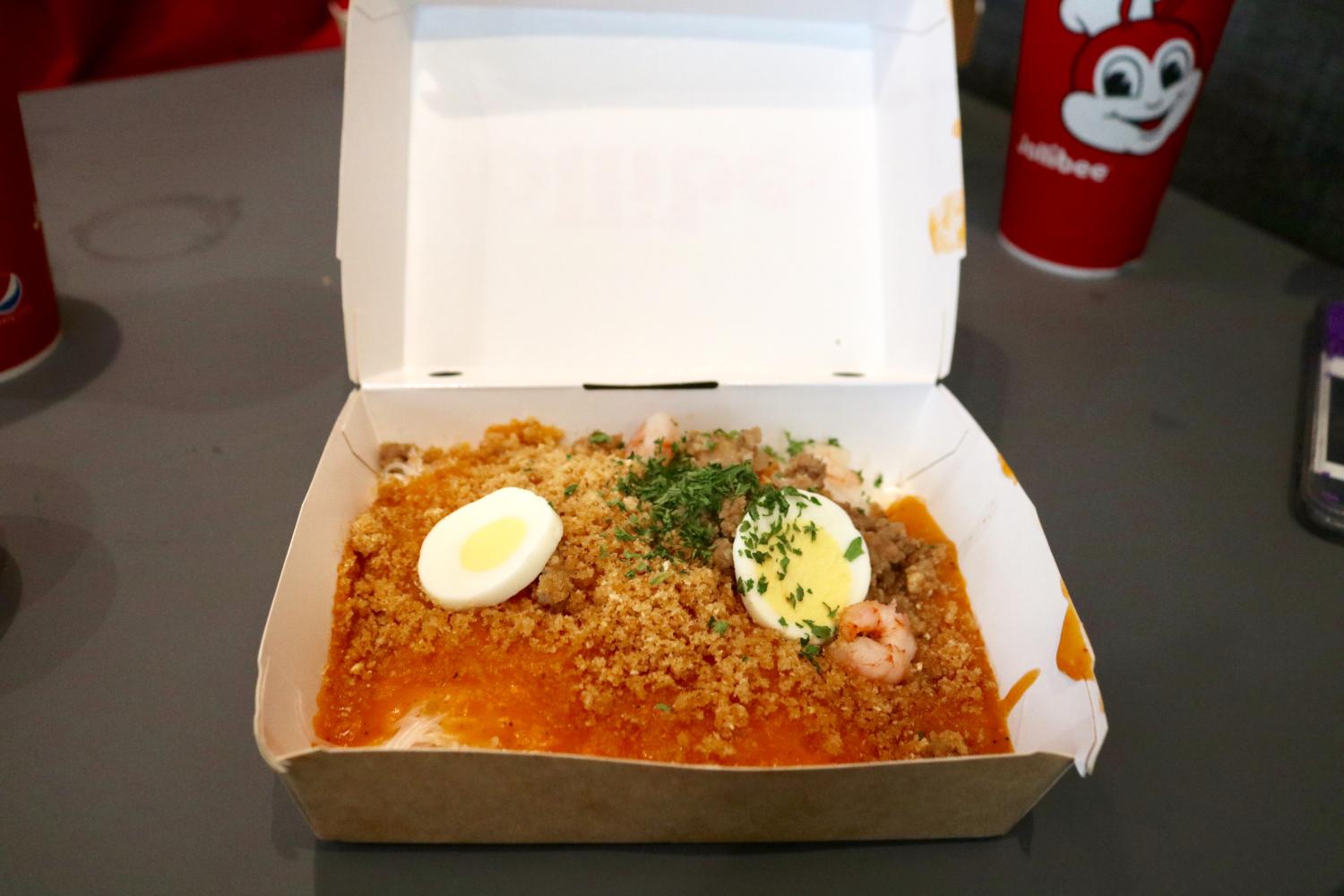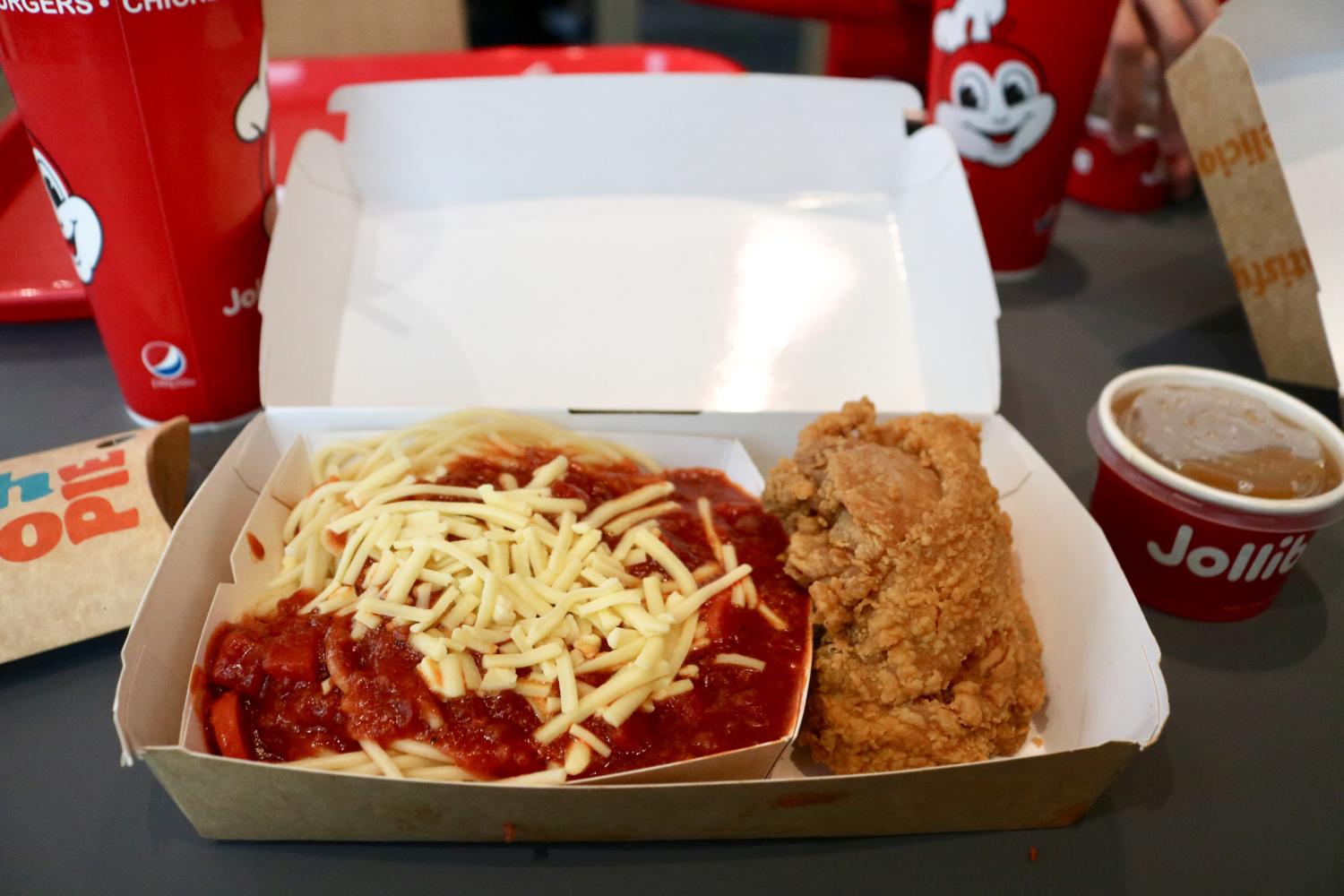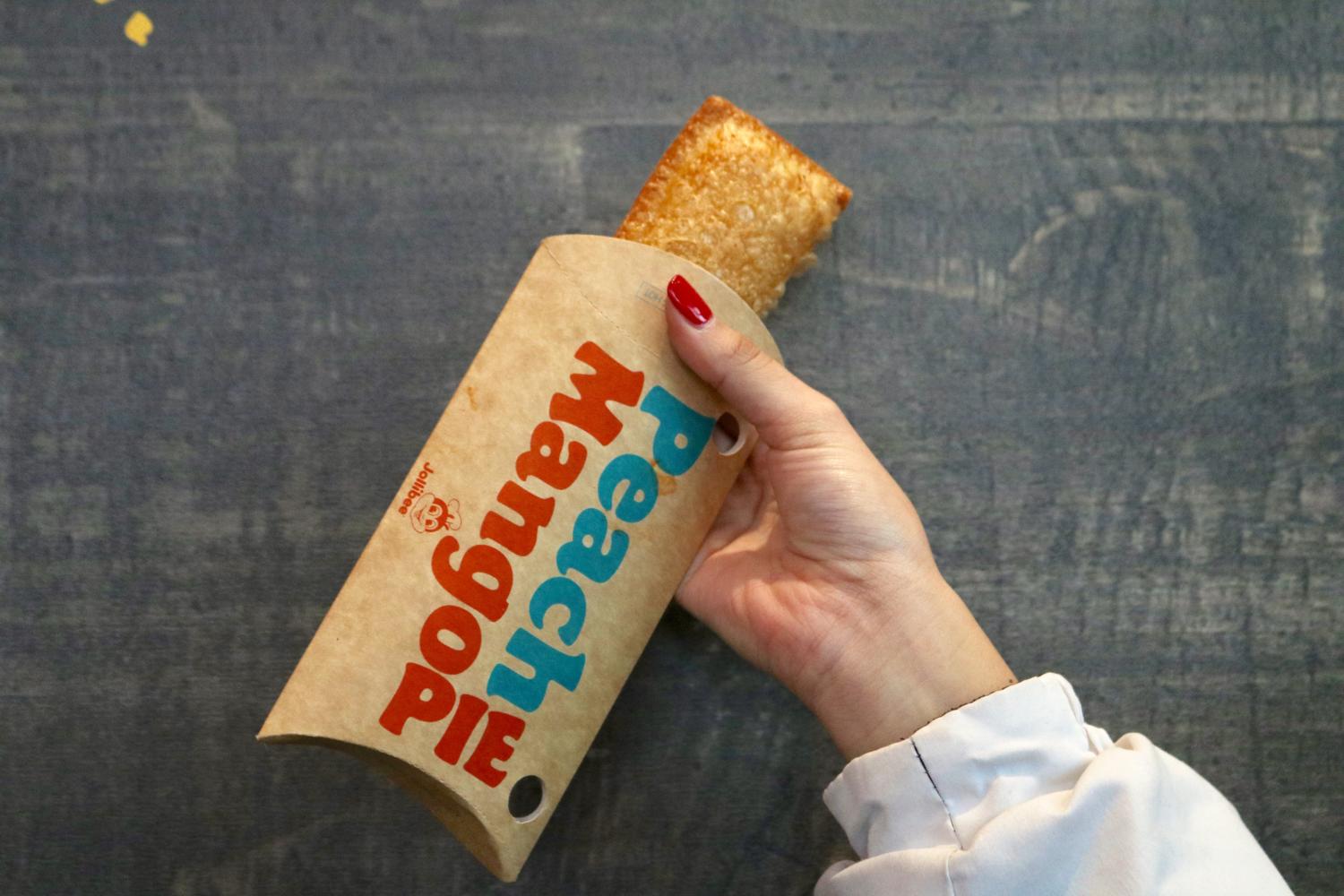 The Chickenjoy with Jolly spaghetti ($6.29) was not what I expected. Despite the rich red sauce and American cheese above a mound of wheat noodles, the dish tasted sweet, like someone sprinkled sugar on top and mistook it for salt. The American cheese somewhat balanced out the sweet taste of the spaghetti sauce, but the sauce was still the overpowering element. Even the sliced sausages mixed into the dish took on a sweetness similar to that of banana ketchup. On the other hand, the Chickenjoy was savory. The fried batter encasing the juicy, tender chicken was crunchy and well seasoned. I dipped the drumstick into the gravy that came with it and I was hit with a whole new realm of flavor.

For dessert, I ordered a Peach-mango pie ($1.99) and it was my favorite item out of everything I ate. The surrounding crust was flaky and had a soft, chewy inner shell. Small cubes of peaches and mangoes filled the baked pie, ensuring that every bite I took was enjoyable. There was also a peach and mango flavored syrup that wasn't overly sugary, but instead, completed and tied together the whole dessert.

By infusing Filipino flavors into everyday food items, Jollibee was able to create a menu to fulfill anyone's taste buds. The Filipino fast-food joint is comparable to authentic home-cooked meals as it makes me feel satisfied and loved, just like how my mom or grandmother prepares their dishes. I highly recommend anyone to step out of their comfort zone and taste the cuisine from the Philippines. If you plan to go after school, try to get there as fast as possible before the line goes through the doors.

[poller_master poll_id="822″ extra_class=""]