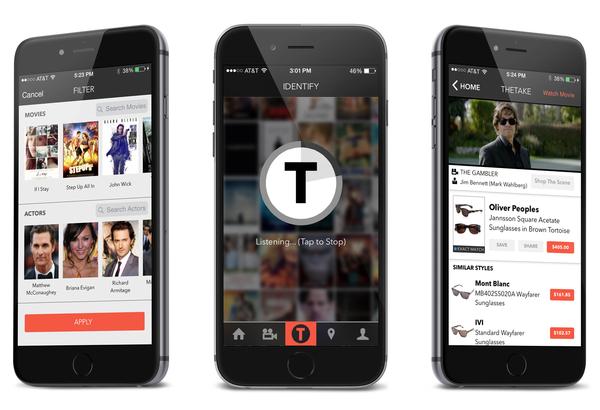 Created by Columbia Business and Engineering School alumni Tyler Cooper, Vincent Crossley and Jared Browarnik, "TheTake" is the "Shazam" for cinema. With a database of over 100 movies and counting, it allows you to find the products and places for any film that you come across.
Upon opening the app, you are welcomed by an interface that is similar to Instagram. Its homepage features several tabs: trending products from movies, a search function with filters/categories, a world map that shows you a plethora of filming locations and a profile page where you can view your saved items. Although the interface is black, white and simplistic, the app still suffers from frequent crashes, fatally flawing its functionality.
Pressing the 'T' on the homepage activates the "Shazam"-like feature, tapping into its 100-movie database. Although the collection is rather small in number, you can request for any movie to be added. The app then listens to the movie that is playing, and shows all the products and places from that specific scene or the movie as a whole.
Once it identifies, for example, Teresa's (portrayed by Kaya Scodelario) blue henley in "The Maze Runner," the app then proceeds to show you a product and gives you the option to purchase it. However, when that J. Crew Stockton racer jacket or those Rag & Bone ankle boots prove to be too pricey, the app shows you several close matches and their friendlier price tags. Once selecting the product you want, it redirects you to the online website where it can be bought from. But it, turned out to be a slight disappointment since it often led me to broken pages.
When browsing through the world map, you can select any orange pinpoint in any region to view the location or notable landmark that was in a movie, such as the Big Ben in London, England featured in Fast & Furious 6. You can then tap on the 'More Info' button to view additional information about the movie and its filming locations.
Though the app gives you an inside look on the products and places of your favorite films, this opportunity sometimes goes to waste with the frequent crashes. An app with a concept that may not be original, but definitely useful, "TheTake" provides a easy and efficient way to shop the cinema.