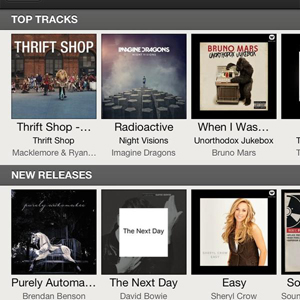 Spotify is an app that provides music streaming, with numerous features to make the user's experience a great one.
The "What's new" part of Spotify displays popular songs, and new releases from artists. Users can create radio stations based on their favorite band or even favorite song. Spotify also recommends different stations and provides a list of genre stations that the user might like. Personally, I love the radio feature. What sets Spotify apart from all of the other music apps, like Pandora, is that with Spotify, users have more than a radio, whereas with Pandora, its just that. Another interesting aspect of Spotify is the inbox feature which allows users to share, send, and receive songs via social networking sites.
On Spotify, I have found many new songs and artists. Some of the songs that I have discovered because of Spotify are: "She Walks" In by Easton, "You Don't Care" by Thomas Fiss, and "Follow Your Heartbeat" by Kyle Patrick. I also like how Spotify is easy to use and that there are so many different stations but unfortunately, Only Premium users can stream on demand.
Pros:
Exposes new/not well known artists

Customized Radio
Cons:
Commercials

Only Premium users can stream on demand

Limited amount of skips per hour