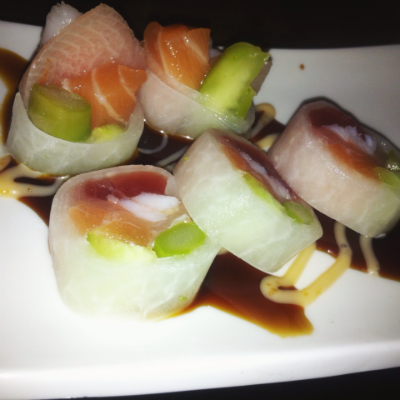 Sushi Koma
8665 W. Flamingo Rd
Ste 106, Las Vegas NV 89147
Hours of operation: 11:30 am – 3 am.
This small, hidden, not-so-traditional sushi spot with great service will not disappoint. Located near the strip, Sushi Koma presents authentic Japanese food in a pleasant modern atmosphere.
The day I ate at Sushi Koma, they had their usual full house, mainly because they only have five tables and the bar. Me and my family  had to wait about 20-25 minutes just to get seated. Popular music plays loudly, and the atmosphere is pleasant, usually filled with the laughter and chatter of its diners.
The sushi chefs have a section of the restaurant reserved for those who come just for their sake, a Japanese alcoholic beverage, in which they can sit, watch, and chat with the chefs in the process of making sushi. Although this is a good addition for adults, it makes the restaurant a bit cramped and the tables are almost directly next to each other, limiting the privacy.
When we finally got a table, I ordered an "all-you-can-eat" meal, which was $29.95, since we came for dinner. Lunch-time "all-you-can-eat" costs $26.95.
I had the Sashimi Roll, which was a colorful, attractive dish with tuna, salmon, shrimp, cucumber, and asparagus all wrapped up in daikon radish strips. It tasted fresh, and slightly sweet. The "yum-yum" sauce was the best part, because it added a tart, slightly savory accent to the dish.  I also tried their Tuna Carpaccio, which is a slightly seared tuna, with balsamic vinegar, Japanese mayonnaise, crunchy garlic chips, and bits of spring onion sprinkled on top. This dish was also very tasty. The vinegar and mayo provided the perfect balance of sweet and salty, while the garlic chips added a much needed crunch.
For dessert, we had one of their specialties, Tempura Ice Cream. It's strawberry ice cream dipped in tempura batter and fried, with whipped cream, strawberry and chocolate drizzle, and goldfish crackers sprinkled on top. One of my favorite desserts by far. The ice cream wasn't too sweet, and the tempura added crunch. The goldfish made the dessert slightly savory. A great end to my meal.
I've always noticed how friendly and talkative their waitresses are who seem to remember my family every time we come, even if our visits are usually a few months apart. The first time I ate at SK, service was fairly slow. However, these past few visits have showed a great amount of improvement for the staff. Food got to our table within five minutes, and the drink refills came faster. The sushi itself is always fresh, never spoiled or old.