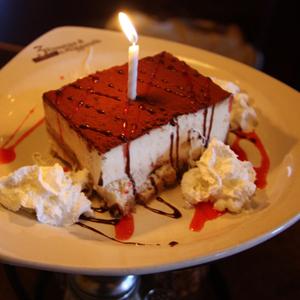 A local's favorite, 3 Tomatoes and a Mozzarella, is a Tuscan-inspired Italian restaurant that serves mouth watering dishes in satisfying portions. The customer service is fantastic and the restaurant staff is extremely friendly.
To kick off the meal, I ordered their garlic knots ($5.50), which were served with flavorful Parmesan marinara sauce. The knots were light and airy with a bit of a crunch to them, but unfortunately, they were doused in oil. For my entree, I ordered the Pesto Cream Fettuccine ($12.50) which was a bit overwhelming with the amount of pesto cream that was added, but was balanced out by the outstanding flavor of the sauce.
For dessert, I had a cocoa cake which was beautifully decorated with drizzles of chocolate and raspberry sauce, dollops of freshly whipped cream and a top layer of cocoa powder. The cake had a creamy texture and the different flavors complemented each other perfectly.
The restaurant itself was massive, including a large outdoor patio and an elegant dining room. Although, the only downfall of this casual restaurant was that there was not a wide variety of food items to choose from; panini, pizza, pasta, salads, and desserts were among the few menu items.
Overall, my experience at this restaurant was superb. I would definitely recommend this restaurant to anyone who is fond of fresh and inexpensive Italian dishes.
Hours:
Mon. – Thu. 11 a.m. – 10 p.m.
Fri. – Sat. 11 a.m. – 2 a.m.
Sun. 12 p.m. – 9 p.m.