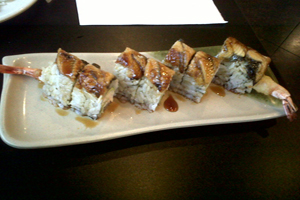 There is an abundance of sushi restaurants in the Las Vegas Valley, but many of them do not meet the high expectations I maintain for this delicacy.  As a sushi enthusiast, I recently experienced a pleasing atmosphere and meal at 808 Sushi, located at Warm Springs and Durango.
Upon entering the restaurant, I was instantly greeted by one of the waiters, who had a friendly disposition, and informed my group to choose any empty table we wished to occupy.  The interior is simple but spacious: tables have enough room in between so that customers will not feel cramped, and wheelchairs can easily maneuver. Plus, customers can watch chefs make their rolls if they choose to sit at the bar.
The appetizers ($1.75-$5.95) include Garlic Chicken, Seaweed Salad, and Teriyaki Beef, all of which are tasty and come in decent-sized portions that leave enough room for the entrees.  The Teriyaki Beef and Garlic Chicken were soft and easy to chew, and their flavors were not overly salty.
For sushi rolls, I recommend ordering anything from the lists ($1.75-$7.50), but the California Roll Deep Fried, Crunch Roll, and 808 Special are the most impressive because of the combined flavors of fish and vegetables especially in 808 Special's spicy crab and tuna.  Furthermore, eel sauce, which is served with almost every roll, adds a tasty element to the dish.  The rolls, which all come in eight pieces, are moderate in size with the right proportional quantities of rice and fish.
For dessert, customers can order green tea or vanilla ice cream ($2.95) to soothe their satiated stomachs.  A scoop of the green tea ice cream is enough to finish the dining experience.  They also offer strawberry, mango, or chocolate mochi ice cream ($2.95), which is a confection made from sticky rice with an ice cream filling.  For the dessert aficionados, 808 Sushi offers a "Banzai Special" ($5.95), which is a deep fried spring roll with vanilla ice cream and chocolate sauce.
The service was quick and efficient without it being overbearing.  There was no rush to eat quickly or settle the bill, and our waiter even agreed to split our bills individually.  The ambiance was casual, which made our meal more enjoyable.
Overall, 808 Sushi is one of the better-than-average sushi restaurants around with reasonable prices and quality meals.  It is a great place to eat for a light lunch or dinner, and other sushi fans should certainly try their food.
808 Sushi is at 7435 S. Durango Dr.  They offer all-you-can-eat sushi for lunch ($20.95) and dinner ($24.95).  They also conduct a happy hour special, which reduces the price of the food in half from 3 p.m. to 6:30 p.m.  For more information, visit their website at 808sushi.com.