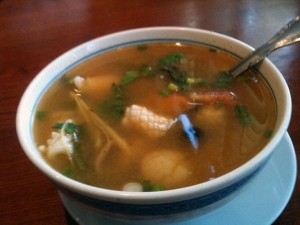 Archi's Thai Bistro is a very successful Asian joint that somehow manages to infuse itself with a subtle yet classy ambiance. Being compared to other successful restaurants, like Thai BBQ, Archi's is known for its authentic, unique style of Thai dishes.
With a large variety of food to choose from, Archi's is one of the most visited Thai restaurants in Las Vegas. Their menu includes a variety of authentic Thai style dishes ranging from the spicy-coconut Tom Yum soup, to the well-known chicken/beef satay, to their signature dish Pad Thai. Being a regular at my local Thai BBQ, I was very surprised with Archi's unique twist on Thai food.
The staff was friendly and helpful, making our experience much more enjoyable. Our waitress visited us numerous times, making sure our drinks were filled and other necessities were taken care of. Some of the drinks not commonly served at other restaurants are Thai iced coffee ($3.95), and the famous Thai Tea ($3.95), both non refillable.
My favorite appetizers of the night were Archi's stuffed chicken wings ($7.95), and the fish cake ($7.95). Both dishes were cooked to perfection, and had us wanting more. The entrees I sampled included the Pad Thai ($7.95), the Chicken Fried Rice ($8.95), and the Spicy Basil Chicken ($7.95). The Pad Thai, being their signature dish, was surprising because it had the nice, tasty flavor of Pad Thai, but with a spicy kick at the end making it Archi's unique. The chicken fried rice to me was average, tasting like typical fried rice, but the Spicy Basil Chicken was magnificent. With the proper mix of chicken, spicy garlic sauce, and mint, the Spicy Basil Chicken was our favorite of the night.
After finishing the main course, I was more than ready to explore Archi's dessert menu. Archi's wide array of scrumptious sweets included Mochi ice cream ($4.95), coconut ice cream ($3.95), and sweet sticky rice and mango ($7.95). I ordered the sweet sticky rice and mango, which was pure perfection. The flavors from the mango and the sticky rice blended beautifully, creating a unique yet simple Thai dish.
Overall, Archi's did impress me, and satisfied my craving for Thai food. The meal was made to perfection in a reasonable amount of time, and their service was phenomenal. Archi's is the perfect mix of Thai food and affordable prices.
Hours:
Open daily from 11 a.m. – 10 p.m.