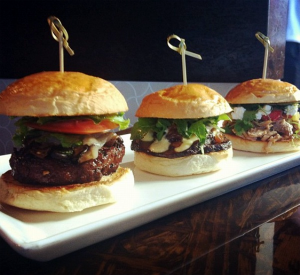 Bachi Burger is one of the only Asian-American fusion joints I know of that can successfully intermix Asian dishes and burgers, giving them a unique, unforgettable flavor.
Their name has a dual meaning, coming from the word Hibachi, which refers to a Japanese-style of grilling, and also meaning to treat others how you would like to be treated in return.
Looking through Bachi's menu, I saw so many items that caught my eye. The first item I knew I had to order was the Oxtail Chili Cheese Fries ($11.50). This specific dish incorporates Asian style oxtail, and combines it with the All-American chili cheese fries. I was greatly impressed with how these two unrelated foods meshed together so well.
Another delicious appetizer was the new and improved Bachi sliders ($9.00). Each slider contained a different type of meat, ranging from beef tongue, to angus steak, to Kailua pig.
The entrees we selected were the Ronin Burger ($10), and the Kalbi Burger ($9.50). Both burgers intermixed Asian styles, with the Ronin giving off a "loco-moco" Hawaiian taste, and the Kalbi burger containing the delicious texture of the Kalbi beef. Both burgers were made fresh, and managed to mix American and Asian style cuisines in ways I never thought possible.
After finishing our entrees, we wanted more, eventually picking up the dessert menus. The dessert menu consisted of Boba tea, milkshakes, and ice creams. We decided to try something we've never had before, and ordered their signature sweet Poached Pears Dessert ($7.00). It was a crepe made to perfection, with maple ice cream and covered in Strawberry-Lemon Mascarpone sauce, giving it that unique bachi style.
My bachi-experience was truly a memorable one. Their unique American and Asian fusion style burgers surprised even me, and really gave me the taste of the best of both worlds.
Hours:
Sun. – Mon. 12 p.m. – 11 p.m.
Tues. – Sat. 11 a.m. – 2 a.m.