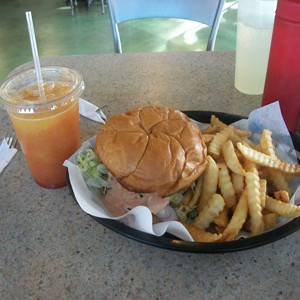 If you're looking for a casual environment and delicious food, the Beach Cafe is the place to go. Though the decorations are a bit outrageous, such as beach balls and swimsuits, they still creatively give off the effect of a Tiki hut. The Beach Cafe's scrumptious homemade burgers and fries are phenomenal. Although, their customer service could have been better.
Walking into the Beach Cafe, I was not greeted nor seen, The only server working was hanging behind the counter most of the time, staring at us, but never making any acknowledgement towards our presence. There was no one to seat us, so we helped ourselves to their uncomfortable benches.
When we opened our menus, there were countless tasty options we could choose from, including wraps, 'surfin' salads', and grilled sandwiches. They also offer protein and fat burning powder add-ons for any drinks. I decided to order the St. Thomas Turkey Burger ($7.75 ), along with the Sunburn Smoothie ($4.50). About 15 minutes later, the waitress approached my table, looking as if she had just gone out for a run. With no notepad, she took our orders.
About 20 minutes later, we finally received our food. My St. Thomas burger was pretty big and came with a heaping handful of their homemade crinkle fries which were perfectly golden and crunchy on the outside, light and fluffy on the inside. My turkey burger was complemented by the hot buttery bun oozing with their savory special sauce. As I gathered up my falling toppings back into the turkey burger, I realized that my bun was burnt, but this did not overpower the overall delicious flavor; they just created a crunchy texture to my burger.
Although it was a very messy burger, it was definitely worth reconstructing after every bite. However, my smoothie was extremely sweet and not as thick as I expected. I realized that they did not use real fruit, but instead, they just used fruit juices and mixed ice into it. So, I ended up not finishing it.
Although the customer service was not the best, this family owned establishment knows how to make some tasty burgers and sandwiches.
Hours:
Open 11 a.m. – 5 p.m. daily