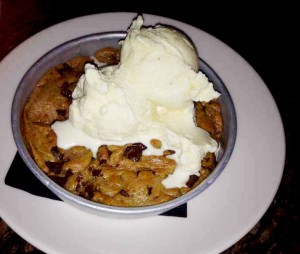 BJ's Restaurant and Brewhouse has earned a spot on my top ten favorite restaurants with their superb service and delectable dishes. It is the place to dine if you want to leave with both your tummy and your wallet full.
As I walked through the fancy revolving doors, I witnessed a crowd of people and every table seemed filled. Immediately two thoughts that came to my mind: 1) It is going to take forever to be seated and 2) the waitress is going to try to rush me through my meal.
The receptionist handed us a beeper and told us to have a seat in the waiting area. Surprisingly, it rang within two minutes. We were escorted to a spacious table where our waitress arrived instantaneously and started explaining the menu in a friendly manner. The predictions I had upon my first arrival were proven false within the first five minutes I was there. Impressed from the start, I happily took a look at the menu.
BJs offer over 20 appetizers ranging from Crispy Calamari ($9.50) to Spinach and Artichoke Dip ($8.75). With the diverse selection, there is an appetizer that will suit everyone's taste buds.
As for our entrees, my cousin ordered from the small bites menu ($3.00 – $5.00). We anticipated literal bite size items to be delivered, but it was a reasonably large portion, especially considering the fact that each item was under the price of five dollars. I took a taste of her Gourmet Mac & Cheese ($3.95) with bacon bits and bread crumbles. Despite its many iterations, their version of this classical dish gave a kick of flavor in my mouth that I have never tasted before. I also tried the Spinach Stuffed Mushrooms ($4.50), which was a nice counterpart to the mac & cheese. It was zesty and the lemon pesto sauce took it to a new level.
And as for the grilled chicken fettuccine ($13.50) I ordered for myself, it was just mouth-watering. The noodles were soft, the sauce was seasoned well with the correct texture, and the grilled chicken was cut to the perfect size with each piece being extremely moist – it was as if the chef cooked it precisely to my likings.
I made sure I saved enough room to have a taste of BJ's famous chocolate chip "pazookie" ($5.95). It was served on a small silver platter with two scoops of vanilla ice cream. The cold creamy ice cream complimented the warm cookie delightfully, and the chocolate chunks break up the monotony of cookie dough and ice cream. It was sweet, but not overwhelming. These delightful deserts are baked to order and need at least 10 minutes for it to be made. A wise dining tip would be to order this when your entrees are delivered so it will be ready shortly after you are done with your entree.
BJ's is the place to fine and dine for a reasonable price. Visit their website at http://www.bjsbrewhouse.com to preview their menu! There are three locations in Las Vegas – Henderson, Summerlin, and Centennial.