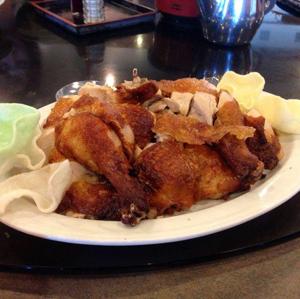 Having already visited Cafe Noodle prior to this experience, Cafe Noodle has been one of those restaurants that is comparable to other restaurants, but has never really caught my attention until their massive price drop, more than likely due to the new competition around the area. Many of their dishes are comparable to local Chinese restaurants like Harbor Palace and Joyful House (both located in the same area), but these restaurants are more expensive. When hearing of the newly revamped menu at Cafe Noodle, my family and I wanted to revisit the cafe right away.
The new menu features certain dishes at special prices that are served daily and are separate from their old menu, where they still offer the rest of their dishes at regular pricing.Their new menu consists of a variety of entrees separated into three price ranges: $4.95, $5.95, and $6.95.. Considering there were the five of us, we ordered numerous dishes that we are fans of, only to find that the prices weren't the only thing they made better. Starting out with the Mongolian Beef ($4.95) a classic dish, the new sauce was amazing. Enjoying the change, we decided to order more.
Another dish we were thoroughly impressed with was Cafe Noodle's take on chicken curry ($5.95). Not being a complete fan of curry in general, I was amazed by how much more tasty it was from the previous visits, with a peanut-butter like sauce that was more than acceptable.
Out of all of the dishes we ordered throughout the dinner, the one that was the best deal was the Whole Chicken Platter served with sweet and sour sauce. Only available for dine-in, Cafe Noodle offers a Whole Chicken for only $6.95, as opposed to other contenders offering this dish for as low as $20.00 (Joyful House Pricing). Aside from these three dishes, the taste of other main entrees like the Bitter Melon with black bean sauce ($5.95) and the Crispy Fried Noodles ($6.95) were exceptional, holding an unique flavor and not tasting like any other.
Some things to take notice before going into this restaurant is that they do charge for extra rice, unlike their other competitors that offer free bowls of rice, with each pot costing $2.00.

View Larger Map
Hours:
Daily: 11am – 2am