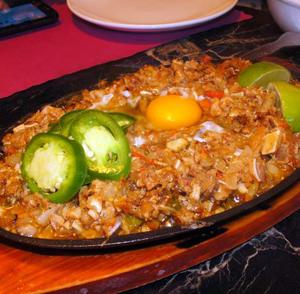 Filipino food is a hearty cuisine that has evolved from Malay, Chinese, Spanish, and American cultures. DT's Filipino Food and Karaoke serves authentic and fusion Filipino dishes with a Vietnamese and contemporary twist.
As with many casual restaurants, the atmosphere was laid back and family friendly with active and helpful waitresses. We were seated and given a menu of Filipino dishes and it was surprising to see regional dishes that were rarely offered in other places as different regions or provinces have their own specialty food and unique type of cooking. The menu also contained Vietnamese dishes, reflecting the owner's heritage.
A must-order dish that is surprisingly new, as it was supposedly created in the 70's in the Philippines, is Pork Sisig ($10.99) which in Kapampangan means to "snack on something." It's prepared with boiled, grilled, chopped, and sauteed heart, liver, kidneys, and pork head, served on a sizzling plate with chili and calamansi (Filipino native lime.) In retrospect, the dish sounds disgusting, but the flavor is a typhoon of indulgent savory flavor. DT's sizzling sisig, although not as crispy, was what my mom said was, "The best!" Oxtail Kare-Kare ($13.99) is a stew with meat and tripe cooked in a thick peanut sauce with bok choy and eggplant. In my opinion, it is one of the best dishes at DT's, as its smooth sauce' tastes traditional and the side dish of bagoong (shrimp paste) is a perfect pairing.
The Pancit Palabok ($8.49) is not the kind one would find at a joint like Jollibee, where it's pancit palabok has thin vermicelli like rice noodles, but is the traditional rice noodle. It is mixed in with thick golden shrimp sauce topped with shrimp, egg, pork rinds, tinapa flakes, and chopped green onions. We also ordered Chicken Inasal ($7.99) a roasted and marinated chicken dish which origins are from Bacolod (the capital city of Negros Occidental in the Philippines.) Like a true pinoy when hungry, I dismembered the chicken by use of kamay (using your hands), while being greatly satisfied by the chicken's tender and succulent meat from its perfect roasting.
To finish the feast, I had to order a pinoy dessert staple, which is the famous Halo-Halo with Leche Flan ($5.75). Halo-Halo is a sweet mixture of shaved ice, evaporated milk, sweet beans, fruits, candied bananas, ice cream, and leche flan (milk custard.) It was delicious to say the least, but I still prefer a filling mixture I usually get in the Philippines with an excess of ube (purple yam), queso (cheese), and mais (sweet corn) ice cream with milk, and more jackfruit.
But while the food was delicious, the time it took for the food to be served was painfully slow; the dishes took almost half an hour long and my pancit was served 10 minutes after that. The food is worth the wait and the prices are suitable. It is a restaurant I would be glad to take my friends to, as long as they can patiently wait.

View Larger Map
Hours of Operation:
Mon-Wed: 9 am – 10 pm
Thu: 9 am – 12 am
Fri – Sun: 9 am – 1 am