Enjoy the luxurious view and healthy dining at Strip View Cafe
Try out their wide range of coffees and teas as well as breakfast and brunch
Closed on Mondays
Tues-Sun: 8 a.m. – 4 p.m.
Credit Cards Accepted
Locally owned and operated, Strip View Cafe is a decade into its establishment after returning with new management from a temporary closure last year. The cafe follows the European tradition of small coffee houses and the desire to bring the community together through a friendly atmosphere, a healthy meal and a good cup of coffee.
While looking for a comfortable cafe to enjoy a casual, dine-in meal, I found Strip View Cafe online on the list of recently opened restaurants nearby on Yelp. My eyes were quickly drawn to their beautiful outdoor patio overlooking the Strip. Their menu serves a full range of espresso drinks, smoothies, and juices, as well as homemade soups, salads, sandwiches, and desserts.
Though the cafe was hard to spot from the outside with its small sign hiding among a giant structure, the interior is modern and elegant – with matching blue walls and tables, rustic stone tiles, and a trendy and timeless brick kitchen. When we entered the cafe, the smell of cigarettes from a customer sitting outside was quite strong, even through the mask, and bothered me to some extent. However, the server was very friendly and approachable, answering all my sister's questions about each dessert in the glass display in depth. Although we took a long time to order, she was patient and kind the whole time and did not mind or rush us to make our decisions sooner. 
When we finally completed our orders, we made our way outside to the patio, and the Strip was in full view from our seats. It was not long before the server came with our drinks and a free appetizer of dried fruit and nuts which reminded me of a biscotti with a hard cookie texture. It did not taste too sweet and left us anticipating the rest of our meal. She also gave us water refills, but I noticed it tasted bitter and had a faint cigarette scent.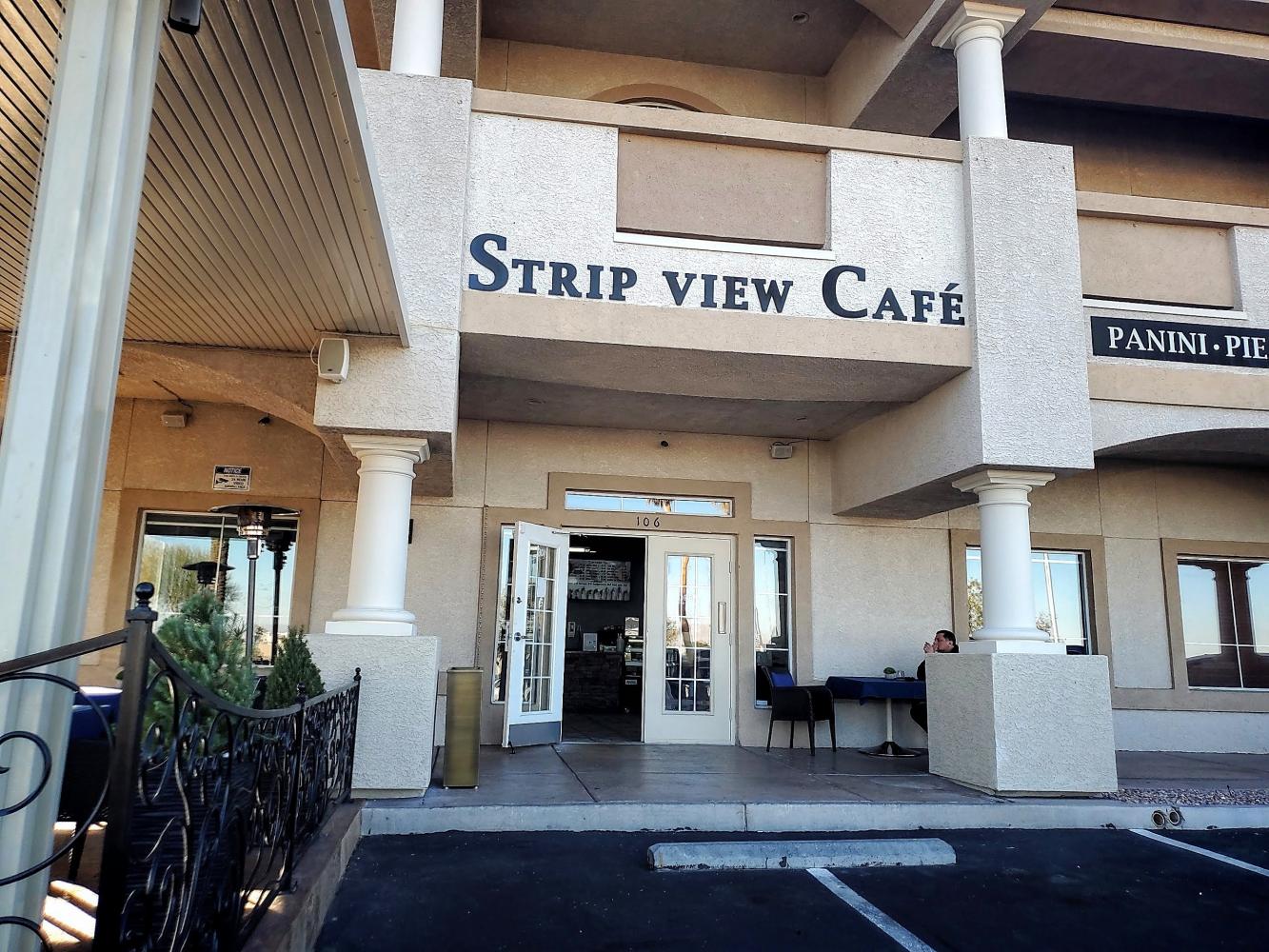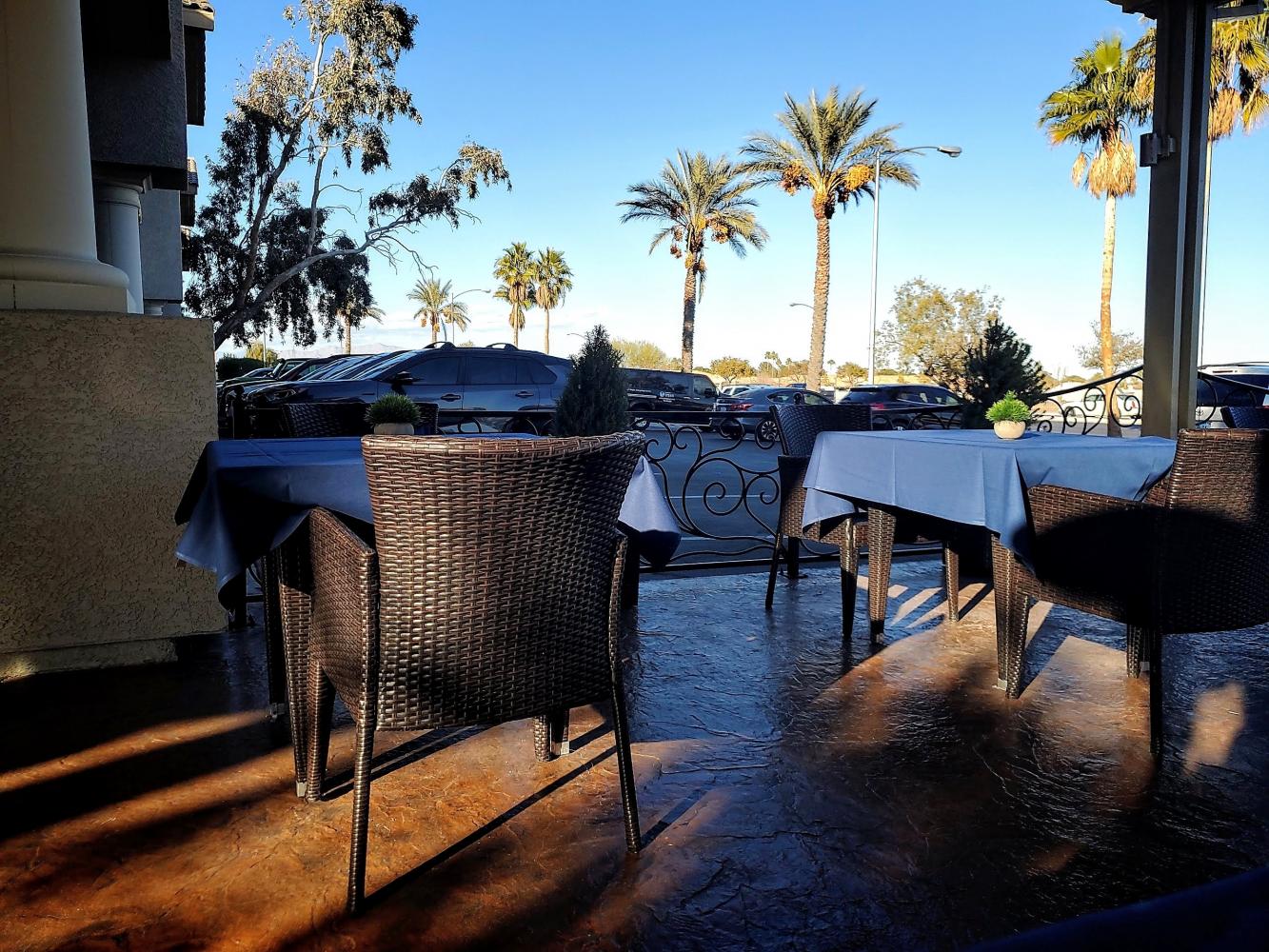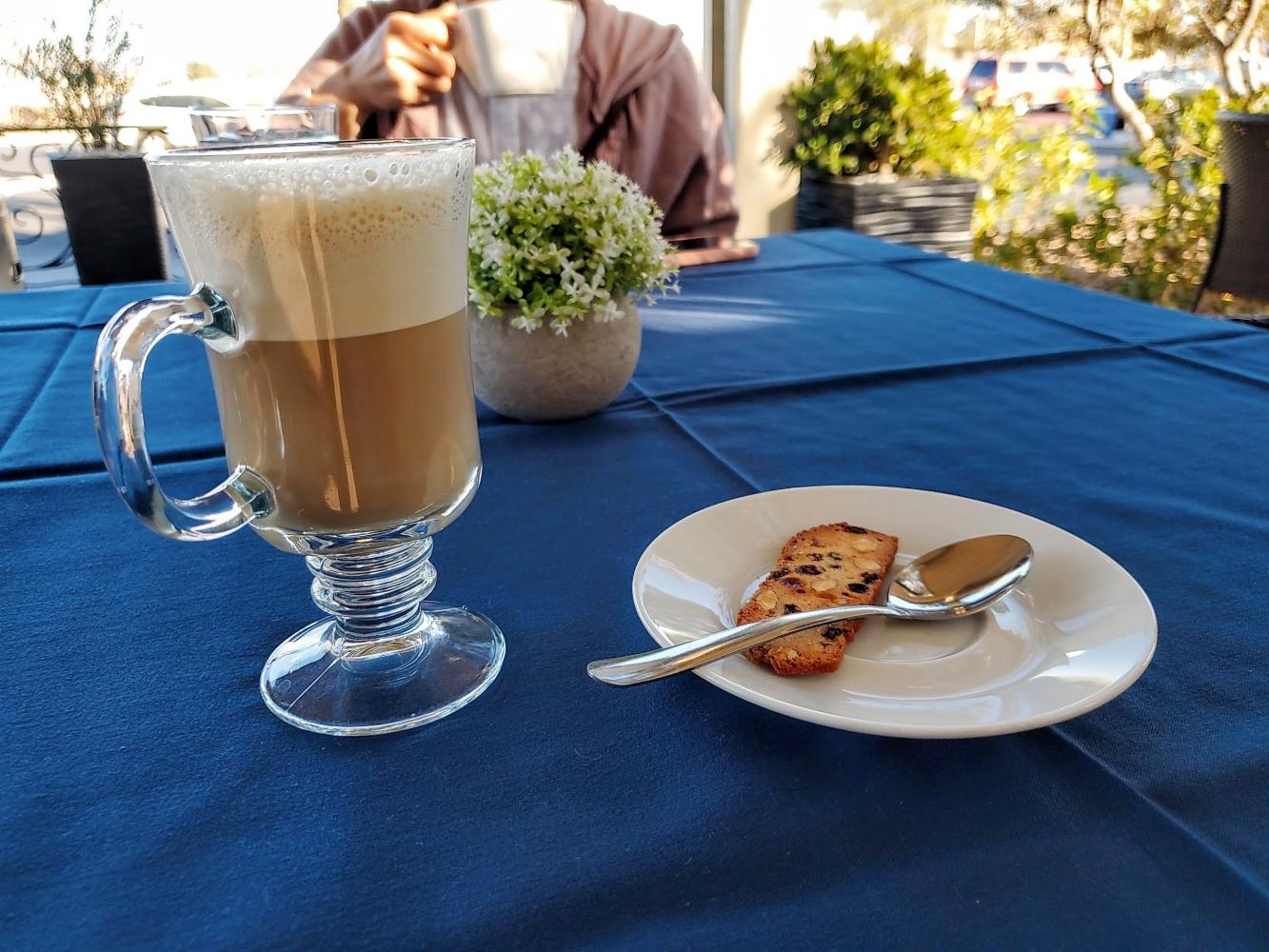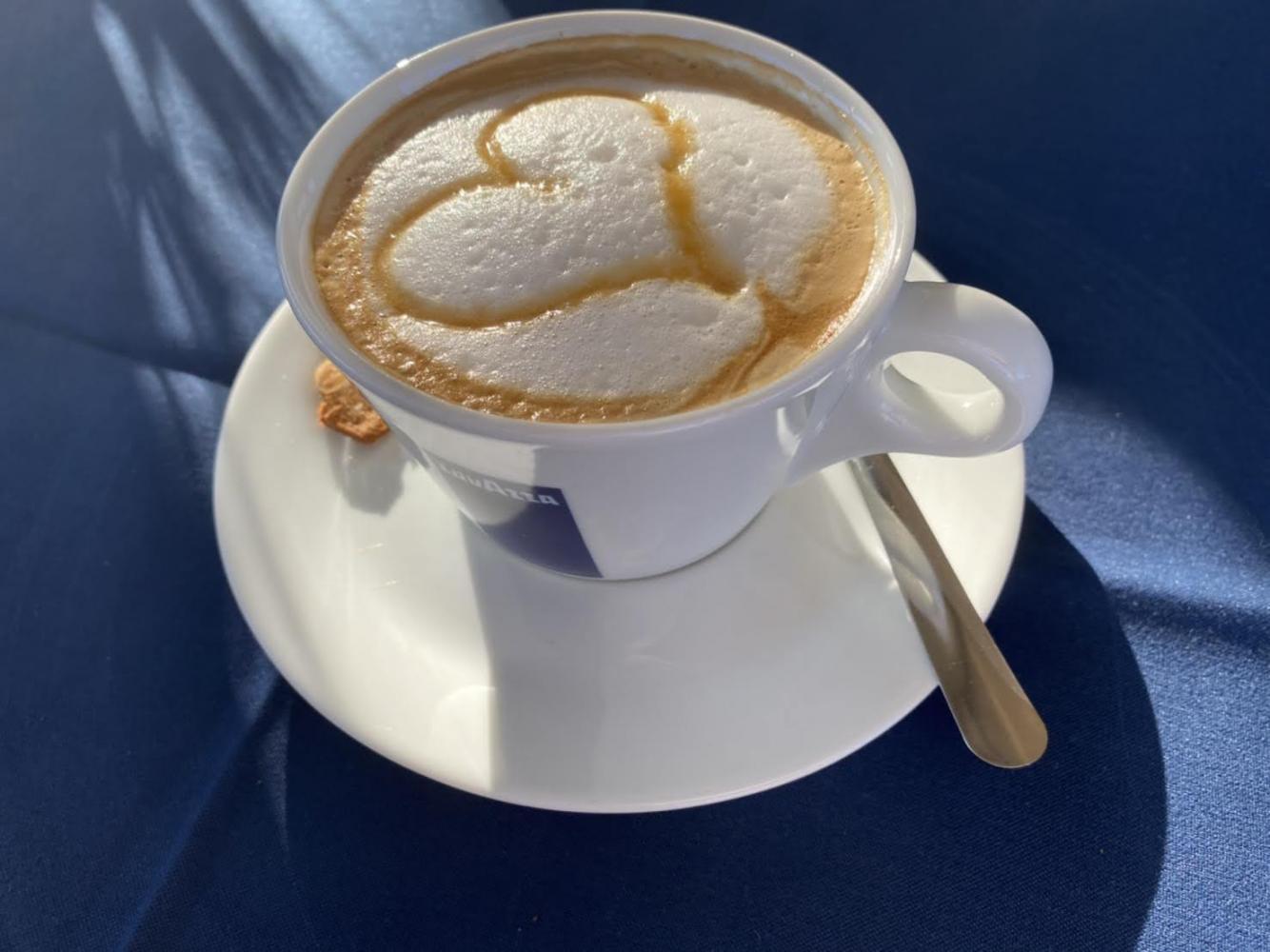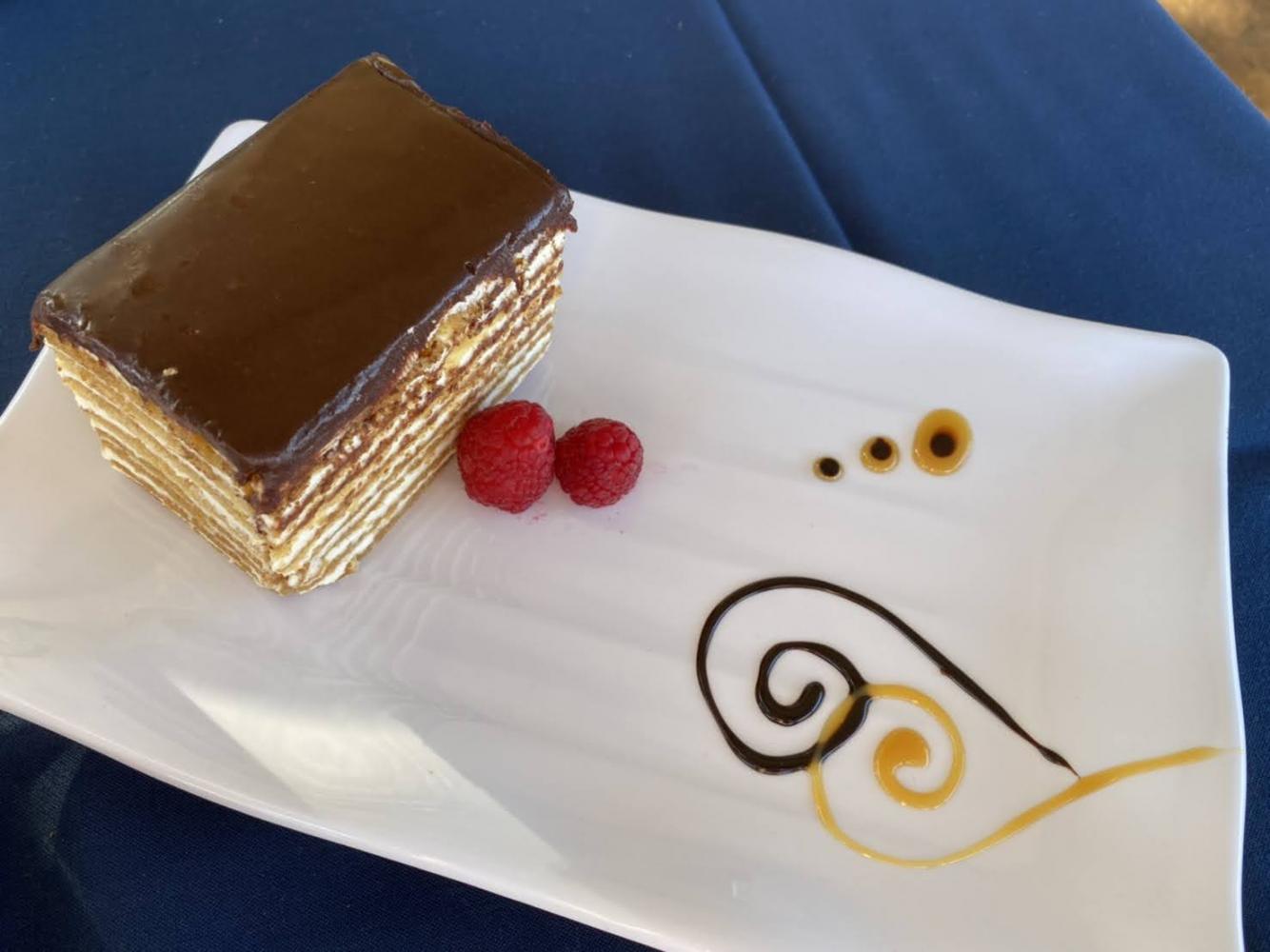 The drink I ordered was the Matcha Latte ($4.99). Though it did not have a strong matcha flavor, it did have a subtle bitterness with a taste of nuttiness and a pleasant sweetness. The foam at the top was fluffy and light as it melted in my mouth and accentuated the coffee's exceptionally smooth and relaxing taste. 
The drink my sister ordered, Macchiato ($3.49), had a similar silky taste and consistency. Still, it was more sweet and robust with a touch of herby bitterness. It also had cute heart latte art that added to the overall taste experience.
My next order was the Gourmet Chicken Sandwich ($13.99) with salad as a side of my choice. The sandwich uses ciabatta bread and contains roasted chicken, tomato, cabbage salad, bacon, avocado, and arugula. I was surprised by the size as I expected a smaller portion and appreciated their generosity to serve the lunch with a whole pickle. The ciabatta bread was truly carrying the entire dish on its back. The crust was crispy while the crumb was soft and moist. It had a savory-aromatic scent that created an outstanding harmony with the bright and colorful vegetables and meat dressed in a sour and slightly acidic mayonnaise-based spread. The side salad contained tomatoes, cucumbers, bell peppers, onions, and various other vegetables. Its tangy dressing highlighted the fresh, crunchy texture of the assorted ingredients and complimented the sandwich. 
Lastly, my sister picked the Bird Milk cake ($5.99). I did not know what to expect from the name, but it was a regular layered cafe with creamy frosting and sugary chocolate frosting. It was quite sweet and had a dense, thick texture. Though it was not my favorite, its moderately intense sweetness balanced well with the drinks' delicate flavor. 
Though we came in an hour before closing time, the staff was prompt, efficient, and attentive. The server knew when to give refills, kept the place clean, and was incredibly well-informed on the menu to provide excellent recommendations and explanations. It was our first visit, but the atmosphere made us feel cozy and like "home" as their business forefront message suggests. The cigarette smell was regrettable, but the cafe offers inclusive and diverse options for healthy dining as well as its prime outdoor seating with gorgeous views.