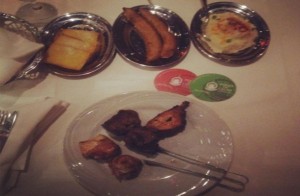 Fogo de Chao is one a few authentic Brazilian Steakhouse's here in Las Vegas with experienced chefs. With the same fine-dining style of Texas de Brazil, Fogo de Chao shows customers the gaucho way, or Brazilian way of preparing various cut-meats the way they do in Porto Alegre, Brazil.
As I walked in, I could see some of the meat grilling in the front window, giving off a sensational smell. As this scent went through my nose, my waitress came right away and seated us. I looked to the left and saw a magnificent collection of wine, and to the right was the salad bar where I was seated. I noticed a lot of waiters serving meat to all the hungry customers waiting. It was a full house, but the service was surprisingly quick.
Their menu consists of a walk up buffet-style salad bar, and 15 styles of meat served directly to your table. Since it is all you can eat style served to your table, the full service includes free drinks and all you can eat salad and meat (Pricing around $50). The meat menu includes various types of meat like grilled beef ribs and lamb chops for those who are into red meat, and grilled chicken for those who aren't.
Fogo de Chao serves their food using a "marker" system. The server explained to me that when I turn the marker to green, it tells the waiters to approach me and serve the food, when red means to take a break. While I waited for the waiters to walk by, I was served with my drink, Brazilian cheese bread, mashed potatoes with extra Brazilian seasoning, and fried bananas.
Pretty soon, the waiters start appearing, one after another. They offered very enticing meat, from Petite-Filet Mignon that melts in your mouth, to bacon-wrapped sizzling chicken with a spicy kick. Everything is served fresh off the grill, with each of the meat having its own specific flavor.
When my cousin and I finished with the main course of filet mignon and the pork ribs, we browsed the dessert menu. We finished our wonderful dinner off with their signature Fogo de Chao Papaya Cream and their Crème Brule (around $10 each). Each of the desserts was warm, served with Brazilian blueberry liquor sauce spread on top, accenting the already delicious taste.
Fogo de Chao not only has the perfect atmosphere for fine-dining experiences, but also some of the best meat and dessert I've ever been served. When we walked out, the waitress thanked us with a smile and complimentary mint chocolates. In the end, we left with satisfied stomachs and more memories to share.
Menu Link: http://www.fogodechao.com/menu/dining-experience/