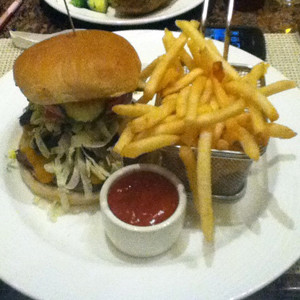 Grand Cafe is a wonderful restaurant at Red Rock Casino, that serves a delectable variety of dishes, numbering in the hundreds, along with other locations at various Station Casinos. With a 24/7 schedule, customers are able to order most dishes anytime they want; whether it be a steak during breakfast or even omelets during dinner, the choices are yours.
Out of the large assortment of mouth watering appetizers, my sisters started with Black Angus Beef Sliders ($8.50), served with three burgers,that in their opinion is quite savory, along with a batch of french fries as a side. Following that, I ordered the Chicken Tenders ($8.50), that came with a variety of dips such as the buttermilk ranch. Afterwards, I also ordered the Chicken Wings ($8.75), that can be prepared in many ways, from buffalo to sriracha-honey glazed.
After enjoying the appetizers, I ordered the Prime Rib ($15.75). Though a little pricey, it is worth every dollar as it's served tenderly and juicy. Another entree is the Spaghetti and Meatballs ($10.25), served with either beef or turkey meatballs along with garlic toast. When served it appeared heavenly, though it wasn't as scrumptious as it looked after I sampled some. The BBQ Bacon & Cheddar Burger ($9.50) is a strong competitor for the best dish as it is served with it's rich applewood smoked bacon, and its assortment of toppings such as cheddar cheese and bbq sauce.
Like most cafes, Grand Cafe took excessively long amounts of time to serve the various dishes, but it's mouth watering dishes more than made up for the wait. With an assortment of dishes from salads to entrees, it can make the whole family enjoy their meal.