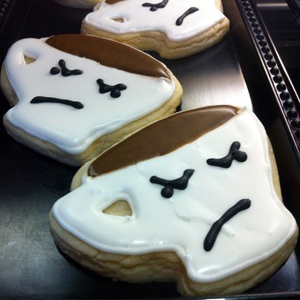 Grouchy John's is more than your average "Cup of Joe." With companies like Starbucks, Coffee Bean, and Dunkin Donuts dominating the coffee business, prospering in the coffee industry is very unlikely, but that did not stop this local coffee vendor from expanding their business.
What makes the venue unique is that not only does Grouchy John's serve quality cups of coffee, but they also joined in on the mobile truck business. Making their way onto Fremont Street from Friday to Sunday, from 12-9 p.m., you can enjoy a cup of John's coffee while watching the Fremont experience.
With a wide selection of coffees and smoothies, the drink that caught my interest the most (and what I ended up trying) was the signature Grouchy John Latte ($3.99), smoothly blending white chocolate and amaretto. Finding the perfect blend of white chocolate and coffee, this drink definitely wins compared to the white chocolate mochas offered at other popular chain stores.
I also ordered one of their famous Grouchy John cookies ($1.00) to accompany my latte, which was a freshly made cookie topped with cream that symbolizes their logo. The next attention grabber on the menu I was one of their smoothies. Amongst all of the tropical, fruity flavors offered on the smoothie menu, the one that made an impression with its description alone was the Suicide Smoothie ($3.99). With an unusual blend of mango, peach, and strawberry all in one, the smoothie was not too sour or too sweet, and ended up being the winner of the night.
Grouchy John's is definitely able to provide quality service and coffee, and are especially useful on one of those cold nights–a place to try for those who make everyday runs to their local Starbucks.
Hours:
Mon. – Fri. 9 a.m. – 5 p.m.
Sat – Sun. 7 a.m. – 7 p.m.