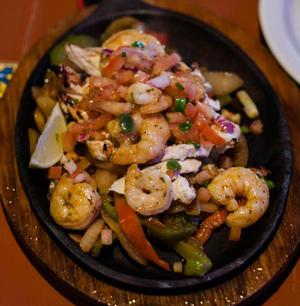 Supermex is a tasty Mexican restaurant with fast and friendly service. If you are ever in the mood for a delicious and quick Mexican meal, this is the place for you.
Supermex's menu choices range from meat dishes, such as the Carne Asada Soft Taco ($3.75), to lighter dishes, such as a Whole Wheat Quesadilla ($ 6.65) with the prices varying from ($2.95) for soup to ($20.75) for Fajitas Tres which includes steak, chicken, and/or shrimp.
For my entree this visit, I ordered the Chicken Sarandeado ($ 12.75) which was a thoroughly prepared tender grilled chicken breast seasoned with special spices. It was also served with guacamole, pico de gallo, rice, beans, and tortillas.
The Taco Salad ($ 8.15) spoke for itself. Trying this mouth watering mixture of perfectly seasoned shredded beef, shredded chicken, or ground beef with lettuce, shredded cheese, beans, diced tomatoes, diced onions, sour crème, and guacamole in a flour tortilla bowl was above and beyond my prior expectations. I was expecting any regular salad with a juicy sweet flavor, but I got more. These ingredients are quite simple and common, but they were given a special touch of natural spices to make them simply devine.
Lastly, the Chicken Burrito ($ 7.95) comes with a choice of seasoned shredded chicken or meat that also includes beans. This may sound dull and boring, but its flavors will satisfy anyone because the spices that are used are common tastes.
Their service is wonderful, the atmosphere is spectacular, the people are friendly, and the portions are well sized. The waitresses were so welcoming and conversational, truly making you feel like you were sitting in your own kitchen.

View Larger Map
Hours:
Daily: 6am – 5:30am