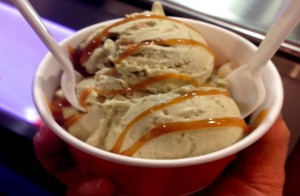 There are infinite ice cream shop chains such as Cold Stone, Baskin-Robins, Golden Spoon, Dippin' Dots, etc. The list is never-ending, but there is no ice cream shop that can compare to Ice Pan.
Ice Pan uses an innovative method in which the product is made fresh from scratch. In order to prove this, they create the ice cream every step of the way right in front on your eyes! Fresh ingredients turns to ice cream, all in a matter of minutes. The following explains the process at Ice Pan:
Choose a cup or a cone
This is the simple step: Cup ($5.99) or cone ($6.99). Pick one.
Choose from dairy base
Available choices include low-fat, non-fat, or whole milk. And for the soy lovers, that choice is also available!
Choose the ice cream flavor
There are plenty of flavors you may decide upon–strawberry, mango, green tea, banana, kiwi, vanilla, chocolate, yogurt, pistachio, lemon, coffee, mint chocolate, and red bean. These choices do not include any type of preservatives, sodium, artificial coloring, or processed sugar which is also why there is not an ice cream flavor available that contains cookies or candies.
Choose toppings
Fruit toppings are cut fresh daily and they include: strawberry, banana, kiwi, litchi, mango, raspberry, pineapple, blueberries. There are also chocolate chip, almond, macadamia, granola, marshmallows, coconut, and mochi. Each topping costs 99 cents.
Watch the transformation
The "ice pan-ers" gather all the ingredients of your choice into a cup which is blended into a liquid mixture. The mixture is then poured onto an ice pan machine 35 degrees below zero causing the liquid to almost freeze instantly. The toppings are added and with a merciless sleight of hands, the ice cream gets churned and slapped onto the ice pan in order to remove unnecessary moisture. A minute goes by, and ta-dah, your dessert is ready to be devoured.
The quantity of selections allows consumers to customize their frozen treat to their likings down to the base. With its unique procedure, it is a fantastic for a first date or a fun place to take your siblings.
The only downfall about Ice Pan is that there is only one in the United States, but luckily it so happens to be in one of Las Vegas's hotels–Harrah's (3475 Las Vegas Boulevard South). Next time you are on the strip, plan to take a visit to create one of these bad boys. Learn more about Ice Pan at their official website http://icepanusa.com/.