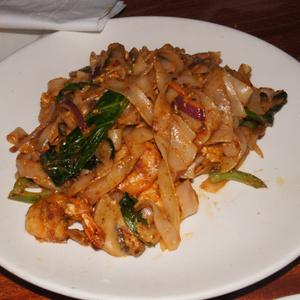 Malaysian cuisine has been regarded as more exotic than neighboring countries because of the influence from various cultures. Island Malaysian, one of the few Malaysian restaurants in Las Vegas, has proven to be authentic and presentable.
The lights were dim and calming, complementing the laid-back island feel the restaurant's style yields. The menu consists of over 100 items and a separate binder of pictures for those who would like to visualize their food first.
Having eaten nothing the whole day, my family decided to order a feast. That's what one expects, coming from a family of food lovers. We first ordered the Roti Canai ($3.75) which is an Indian-styled crispy pancake that is slightly sweet and served with a light chicken curry. The Basil Noodle ($7.95) which was freshly aromatic from the spices and vegetables it was sauteed in, but it was nutty and awkwardly bitter. I was in the need for a sweet and fruity dish, so I ordered the delightfully sweet and slightly sour, Mango Shrimp ($13.95) with shredded Indian mango. It holds a slight kick in every bite.
Every meal requires vegetables, so I ordered the Kang Kung Belacan ($9.95), which is water spinach cooked in soy sauce mixed with other spices. My favorite was the Deep Fried Jumbo Shrimp with Coconut Butter ($19.95) which speaks for itself. It is delightfully crunchy, but contrastingly tender inside. The butter softened and moistened the delicate crustacean meat. Despite the authentic and robust flavor of the Beef Rendang ($12.95), its woody scent, due to the bitter curry, overpowered my taste buds and thus I could not find a consistent flavor and did not touch it after.
Although it is indoors, the wooden placemats and vibrant decorations were inviting and attractive. It has a distinctive family feel as the waiters and cooks seemed to be relatives and not only are they close, but act generously to the customers. Island Malaysian Cuisine is a great family restaurant from the ambience, delicious food and proximity to Chinatown. I'll definitely come back and bring my own friends.
Hours:
Open Daily from 11 a.m. – 10 p.m.