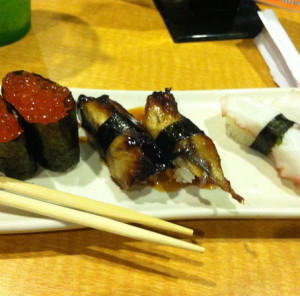 Despite its location in the stuffy, smoke-filled Plaza Hotel, the Island Sushi & Hawaiian Grill is worth the battle of elderly seniors and a smoke-filled haze. The restaurant caters to anyone with a love for seafood and Asian foods while still offering American classics. Besides the delicious food however, the setting and atmosphere is relaxing. The lights are dimmed enough to still be able to see your food and the preparation bar in the front.
To start off the dinner, I ordered the Green Apple Fruit slush ($4). The beverage looked like a toxic waste frozen confectionery, but tasted far from that. There was a tangy and sour blend of flavor that had me hooked, making me want more. I must warn that refills are not free, so keep in mind not to slurp down this delicious drink too fast.
For my main entree, I ordered Bento A ($9.50) along with an Ikura Roll ($5.95). The Bento A meal was served with Furikake rice, fried noodles, Spam, Garlic Ahi, and a choice between Garlic, Mochiko, or Teriyaki chicken. I was a little disappointed with the Garlic Ahi as it was a bit dry. It still had juices, just not as much as I expected. On the brighter side, the flakiness and seasoning of the Ahi was up to my standards. Since I wanted to try a new food item, I chose the Mochiko Chicken, which was by far the best part of the Bento box. It excited my taste buds with its tasty juices and had a light crunch to it.
Similarly to any other sushi roll, the Ikura Roll was salmon roe with sticky rice wrapped with seaweed. The salmon roe contained salmon eggs, which had a very squishy texture that just popped in my mouth. Because these eggs were soft, there was no need to chew, allowing me to enjoy the delectable taste and flavor.
To end my meal, I chose a simple dessert: a scoop of Green Tea ice cream ($3.25). Just like my Green Apple slush, it was a bright and pretty green. It was not too sweet and not too bitter; it had a perfect balance of sweetness. Additionally, the mint flavor was not too overpowering and blended well with the tea flavor, making it a perfect ending to my dinner.
The Island Sushi and Hawaiian Grill is worth another visit. The food has an extraordinary taste to it, and the best part is that it does not cost much. If you want your taste buds tantalized, the Island Sushi and Hawaiian Grill is the place to go.
Hours:
Mon – Thurs from 11am – 11pm
Friday from 11am – 1am
Saturday from 8am – 1am
Sunday from 8am – 11pm