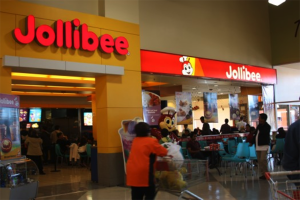 McDonalds is to America as Jollibee is to Philippines. Jollibee can be found on almost every corner in the Phillippines. McDonald has Big Mac's and Jollibee has Yumburger. KFC is all about fried chicken, Jollibee has Chickenjoy. However, Jollibee's food far excels these American fast-food restaurants.
The smell of the food welcomed me when I first stepped in. I noticed that it was already buzzing with customers and the atmosphere was friendly. Jollibee keeps true to their mission of "fast-food." The ordering process is sped up by employees writing down customer orders while they are in line. Since they pre-make the food, it is immediately served when customers order at the counter. If they have not yet made that item, they give you a number and within five minutes have it delivered to your table.
Their menu consists of fish, burgers, chicken, noodles, pork, beef, spam, hot dogs, side dishes, and desserts (prices ranging from $2 to $7). I decided to try their Yumburger meal, which included medium french fries and a soda ($3.49). It looked like a simple burger: their special sauce, cheese, beef patty, and bun. However, when I first took a bite, I was hooked. I loved it! Every ingredient was delicious. The special sauce, that tasted like sweet mayonnaise, mixed well with the cheese and melted in my mouth. The fries though, did not meet my taste standards because they tasted bland. My brother ordered a Burger Steak ($2.99), which is made up of two beef patties, slices of mushroom, chicken gravy on top, with rice as a side dish. I took a bite and the combined flavors made me want more.
My meal seemed small, but it did fill me up. After, I wanted to try a dessert. I chose a smoothie mixed with bubble tea, containing tapioca balls, called Pearl Cooler ($2.99). The flavors are buko pandan (young coconut) and ube (purple yam). The names made me wonder if the flavors were like their names so I tried both of them. The drinks were the right amount of sweetness and the flavors were unexpectedly delicious.
The warm, bright environment, kind employees, fast service, and low-cost meals earns a five-star rating from me. The only thing I'm not happy about this fast-food restaurant is their locations. One location is on Maryland and Flamingo and the other is on Sahara and Fort Apache, which is too far for me to visit on a regular basis. I would be a regular customer if distance was not a problem. However, I was still content with Jollibee's service and left with a full stomach and money still in my pocket.
Menu link: http://www.jollibeeusa.com/menu.html