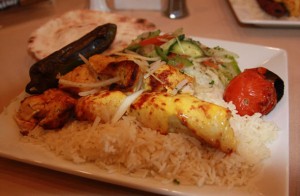 Being from the Middle East, I am open to multiple types of Mediterranean food. It's difficult to find authentic Mediterranean food here in Las Vegas, so I was delighted when I took my first bite at the Shishkabob house. I was pleasantly surprised when I realized that their Mediterranean food tastes better than it does on the actual Mediterranean.
Just like any other restaurant, the Shishkabob House serves several appetizers, but not like the run of the mill spinach dip or chips and salsa. At the Shishkabob House, you can expect to find exotic delicacies like Hummus, Babaganush, Tabuleh, Cucumber Yogurt, and Eggplant Caviar. Although all of the appetizers are worth a taste, my personal favorite happens to be the Babaganush. The babaganush is a paste made of roast or grilled eggplant and tahini, which are made from sesame seeds. Fresh, warm pita bread is provided with every appetizer, as well as with any main course.
The main courses are always hot and fresh. They offer various kinds of meats that will appeal to most everyone, including: chicken, beef, lamb, pork, shrimp, salmon, and gyro. They can be received any way you want, sticks not included.  For those of you that are not into classic Mediterranean food, they also have two tasty salads, chicken fingers, and cheeseburgers. However, the restaurants favorites would definitely be the beef and chicken kabobs. Along with your choice of meat, you receive a choice of French fries, rice, or both, along with a Greek salad, a jalapeno, and a roasted tomato. Personally, I recommend the grilled chicken kabobs with rice. This is my favorite meal, cooked to perfection, and the jalapeno adds a nice kick.
Just like the rest of the food, the desserts are out of this world. They serve the always yummy chocolate cake and cheesecake as well as baklava, which is traditional Greek pastry made with phyllo dough, honey, and nuts. It's sweet and light, and great to share if you still have room after dinner.
The Shishkabob House serves delicious classic Mediterranean food, and the waiters are friendly and helpful. I highly recommend the Shishkabob house if you're in the mood for something new and appetizing.