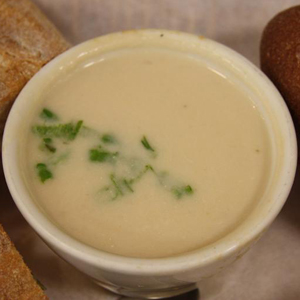 Pâtisserie Manon is a bakery that offers tasty, authentic French cuisine for reasonable prices. I have noticed the Pâtisserie Manon bakery for quite some time now and decided to let my interest in other cultures lead me to try their food.
I ordered the Mixed Combo ($9.95), which is a combination consisting of a sandwich, small soup, and drink of your choice. The description of the Le Parisien, which is just ham, brie and pickles on a baguette, caught my attention. The blend of opposites, such as crunchy and soft, ties the whole sandwich together. The crunchiness of the pickles and baguette particularly went well with the subtle taste of the soft brie cheese and the ham.
Along with the Le Parisien, I ordered the Cauliflower Cream Cheese soup. The warm soup was so rich and creamy that it complemented the sandwich perfectly. The smooth texture of the Cauliflower Cream Cheese soup made it an overall light side.
Throughout the busy bistro, there are paintings on the walls that depict a small farming community. The atmosphere really enhanced the feeling of being somewhere other than Las Vegas. Also, the polite and attentive service showed that the workers valued their customers.
Overall, Pâtisserie Manon's atmosphere, decor, food and pastries makes it a pleasing restaurant that creates the perfect meal. Also, Manon offers some incredibly designed desserts, such as macaroons and cakes, and although I did not try any of them, I will be sure to taste them the next time I visit.

View Larger Map
Hours:
Mon – Sat: 7am – 9pm
Sun: 7am – 7pm