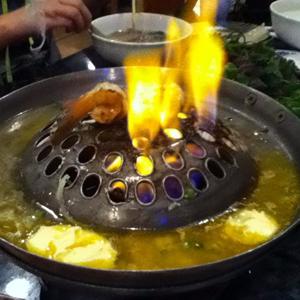 Pho Pasteur and Grill has a bulky menu with an assortment of traditional Vietnamese dishes and Chinese cuisines. With soothing background music and delicious food, Pho Pasteur and Grill provides an exceptional dining experience.
From the varieties of dishes that were on the menu, I started by ordering the Pho Dac Biet ($7.50). It is one of my favorites, since it has a strong broth along with its combination of steak, well done brisket, flank, tendon, and tripe. My family also ordered a Pho Khong Thit ($5.49) which was the practically the same as Pho Dac Biet, but contains no toppings, making it rather bland.
Another delicious dish was Com Thit Nuong Cha Gio ($7.49) which has savory minced charbroiled pork and egg rolls along with rice. A similar dish and just as delicious was the Com Suon Nuong with its rich charbroiled pork chops. My other personal favorite would be the Bo Tom Muc Nuong Vi ($26.99) which consists of large servings of raw marinated beef and shrimp. Using a unique grill specifically for this dish, we cooked the meat ourselves and then made sandwich wraps with noodles and vegetables, enough for the entire family.
Pho Pasteur and Grill has a particularly small dining room filled with many traditional Asian decorations giving the appearance that it is much larger than it really is. The service was tolerable since the waiters were friendly but slow.
Overall, Pho Pasteur and Grill is a terrific place to dine with its large selection of dishes, along with its quiet atmosphere. It even has large pictures of the food on the wall that can help customers choose the right dish.

View Larger Map
Hours of Operation:
Mon – Sun: 9am – 11pm