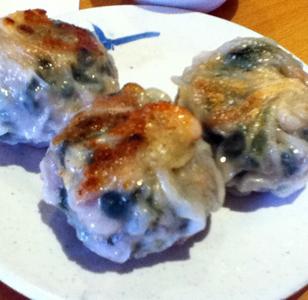 Dim sum is a style of Chinese cuisine that is served as bite sized appetizers, such as dumplings, but can also double as the main course. At Orchid's Garden, a seafood restaurant, they serve dim sum all day long, as well as traditional chinese cuisines. Their dim sum is really delicious, but the portions have been getting smaller while more expensive.
Dim sum is separated into different classes based on their prices with "A" being the cheapest to "E" being the most expensive . Through the variety of dim sum, my family began with ordering "A" class dishes which cost $2.25 such as the Steamed Beef Ball which was extremely tender when combined with the fried tofu skin which went perfectly with the juicy beef. Another delightful dish was the Pork Shumai which literally melted in my mouth with it's smooth texture and rich pork mix. A personal favorite of mine would be the Pan Fried Daikon Cake which has a strong daikon (radish) flavor, a smooth texture, and a crisp outer layer.
Afterwards, my family began ordering the more pricey dishes like the "B" dishes which cost $3 each, such as the Shrimp in Rice Noodle Roll, which was not as filling as it could be with only two pieces of shrimp in a lengthy noodle roll.  Another personal favorite would be the Pan Fried Chives Dumpling which is extremely savory, with its rich taste of chives, shrimp, and pork, along with a crunchy wrapping that compliments each other. During the course of the meal, my family did order a "C" priced dish, the Fried Shrimp Ball. It was indeed delicious, but it was not good enough to be $4.10.
Orchids' Garden is one of the best dim sum restaurants I have been to with its large assortments of dim sum. There are always carts rolling around, and if you want something specifically, the waiters can help you chase down your favorite dim sum.
Hours:
Open Daily 10:30 a.m. – 10:30 p.m.