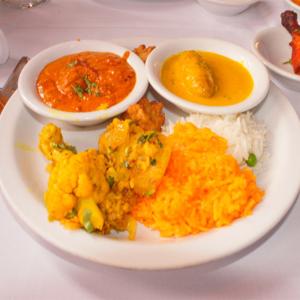 Mount Everest is a family-operated Indian restaurant that serves a lunch buffet ($10.99) and a standard restaurant menu at night. It contains an ample supply of traditional Indian food made fresh and adapted to suit western tastes.
I entered the doors of Mount Everest for the lunch buffet and was immediately pulled in by the exotic aroma of Indian spices. It was early, but the owner kindly welcomed us to our seats and I eyed the dishes prepared at the buffet table. When settled, I selected foods that were familiar to me. Being a lover of creamy and savory stews, I chose Chicken Tikka Masala immediately, which is boneless chicken roasted and cooked in a tomato and cream sauce. My mouth salivated at the intense flavor and rich color the dish contained.
My plate rapidly grew heavier as I added Aloo Kauli, which had the distinctive aroma of cumin and coriander beneath the potatoes and cauliflower. It was a bit salty, but the vegetables were rather juicy and moist, complementing the Shai Paneer, a creamy sauce containing chunks of homemade cheese. It was mild which disappointed me because I like spicy food, the chefs toned down the spices so as to not overwhelm western taste buds. Although, the smooth and subtle taste of the cheese melted within mixed bites of the different dishes amplified its unique flavor.
The Tandoori Chicken and I think it was a must because it is baked daily in an extravagant process consisting of being marinated in yogurt, several herbs, spices, and then cooked upon an onion bed in a clay oven with mesquite charcoal. Every bite was satisfying and the spices soaked into the chicken so that is resembled vibrant fire. I placed my food upon light and sweetened basmati rice. My parent's favorite part of eating at Mount Everest was the warm Naan Bread that could be used to dip into the creamy Indian stews, or enjoyed on its own.
The experience was all around pleasurable and the atmosphere was elegant, but casual. It was amusing to watch the Bollywood movies that played regularly and displayed aspects of Indian culture. The service was amiable, as they constantly re-filled waters to make sure we could handle the intense zest that was infused in the cuisine.
Mount Everest is a restaurant that implants their dishes with culture and homemade flare. The affordable price and kind aid made it a family-friendly encounter. I definitely enjoyed the food and cultural exposure and will come back for more.
Hours:
Mon. – Sun. 11 a.m. – 3 p.m.
Mon. – Sun. 5 p.m. – 10:30 p.m.