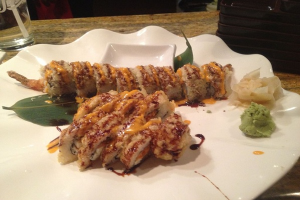 What's not to like about a good dinner and a free show with it? Specializing in Hibachi, Ohjah Japanese Steakhouse and Hibachi Grill not only impress customers with the food that they offer, but also with a live show of chefs cooking the food you order.
Passing by it from time to time, I have always wondered what it would be like to eat at Ohjah, and this past Spring Break, I was finally able to try it. Their menu consists of two different Japanese styles; sushi and hibachi. Hibachi is when the chef cooks your order in front of you with style and precision. The Hibachi menu includes chicken, filet mignon, shrimp, scallop, and steak. The price for two of the entrees, including fried rice, is around $15.
After we ordered, the show began. While setting up the stove, our chef breaks the silence by introducing himself and telling a few jokes. When he started cooking, we could see the chicken we ordered simmer on the grill emitting a sensational smell. We ordered Filet Mignon, Chicken, Beef, and Shrimp, each of them giving a different taste that made us want to order more. While the beef had a juicy, tender flavor, the shrimp and chicken on the other hand was more of a dry delicacy, where the flavor did not kick in as quickly. The filet mignon, our favorite entree, was cooked to perfection. After all of the meals were finished, he finished it off by making an onion volcano that won us all over.
When we were finished with our meal, we looked through the dessert menu. Their menu consists of green tea ice cream, red bean ice cream, mochi, and fried banana. Although I did not try everything on the menu, the fried banana was magnificent topped with green tea ice cream.
Ohjah Japanese Steakhouse and Hibachi Grill is one of those restaurants that you can never forget. After finishing our meal, we knew for sure that we would come back for more.
Ohjah Japanese Steakhouse and Hibachi Grill is located at 8595 Decatur Blvd. Hours of operation are Sun – Thurs 11 a.m. – 10 p.m. and Friday and Saturday 11 a.m. – 11 p.m. For more information, call (702) 868-9888.