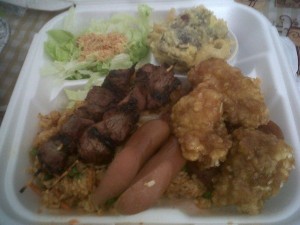 Rice Trax is considerably one of the many brilliant and undiscovered dining places of Las Vegas.  The establishment is tucked away in a corner, hidden behind a tiny gas station complex, and upon first arrival, the place is evidently lacking in curb appeal and customers.  However, the delicious food and speedy customer service overshadowed my doubts about the place.
Rice Trax's menu consists of four bento boxes (Garlic Chicken Bento, Mochiko Bento, Furikake Bento, and Katsu Curry Bento), which are served in a Styrofoam box.  Each box has a set price of $9.45, and their three plates (Furikake Shrimp, Mochiko Chicken, and Garlic Chicken) cost $7.50 each.  The portions are huge, and it would be a challenge to finish the meal in one sitting.
The Mochiko Bento comes with mochiko chicken, two sticks of beef teriyaki, two sticks of chicken katsu, and two shrimp tempura with a side house salad.  The boxes come with steamed rice, but if you choose to substitute it for fried rice, there is an extra cost of $1.25.
I opted for the fried rice, and the cashier informed me that I could choose three items from the bar to put into my rice.  There are 16 items in their fried rice bar, including jalapeño, celery, edamame, and more.  I chose my sides of peas, carrots, and kim chee (extra $.50) to be mixed.
The kim chee fried rice mixed with peas and carrots is downright delicious without being too spicy, and the mochiko chicken is by far my favorite—it is slightly sweet and crunchy, and it harmonizes well with the rice. The house salad was surprisingly tasty and fresh.  The beef teriyaki on a stick had the right consistency: soft, but not too soft to the point where it becomes overly chewy.  The chicken katsu was a bit of a disappointment, though; the outside is fried and crunchy, but the chicken inside lacked flavor, and their accompanying sauce did not make it any more appetizing.
All in all, Rice Trax serves an incredible amount of food cooked-to-order for reasonable prices.  Their focus is their fried rice, considering that they only basically have seven dishes, but they still deliver the best-tasting cooking as much as possible.
The restaurant is open Monday through Saturday from 11 a.m. to 9 p.m.  They are closed on Sundays.  Rice Trax is located on 7780 S. Jones Blvd behind the Outside Inn.  To view their menu, visit their website at ricetrax.com.