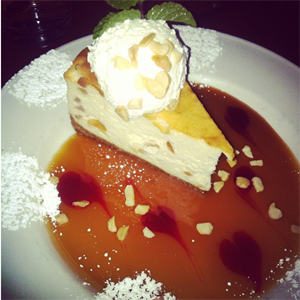 Yard House is a restaurant that captures the All-American vibe while maintaining a country, yet classic rock style. With an award-winning and extensive menu of various cuisines, Yard House is an all-around amazing experience.
With over 130 items on the menu, Yard House blends unique dishes with American cuisine. As a big fan of Asian delicacies, one of the first appetizers I ordered was the Ahi sliders ($13.85), a dish combining American sliders and Japanese Ahi Tuna. The presentation grabbed my attention, followed by the freshness of the ahi tuna.
Ready for more, I decided to try several different items. Being fond of burgers myself, I had the Bearnaise Burger ($10.85). Cooked to perfection, the burger had an ambitious and unique sauce that was zesty. It was definitely my favorite of the night. Another one of their must-try signature dishes was Mac and Cheese 2.0 ($16.25). Topped with chicken, applewood bacon, and truffle oil, this was definitely a diverse way of preparing the All-American Macaroni and Cheese.
To finish the night off, I ended with a dessert that you can't find anywhere else: their Macadamia Cheesecake ($7.25). This delectable dish, topped with caramel and raspberry sauce ended my lunch perfectly.
Hours:
Open daily from 11:45 a.m. – 1:45 a.m.