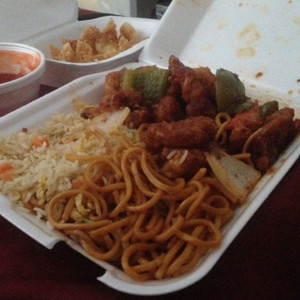 Rice N' Noodle offers typical Chinese dishes. Starting off with appetizers, we ordered the Crab Rangoon ($4.95). Like any other Chinese restaurant, the rangoons were served with sweet and sour sauce, making a common yet surprisingly fresh taste. Additionally, we ordered the paper-wrapped chicken ($5.95), which is house marinated chicken wrapped in foil. Upon eating the paper-wrapped chicken, I found myself chasing the flavors with each bite; tangy, spicy, tasty–the dish had it all.
For entrees, we began with their house special, General Tso's Chicken ($5.95). Pungent and rich, the spicy pieces of chicken were balanced by the sweet, mellow sauce; overall it was the MVP for the night. To accompany the chicken, we ordered Singapore-style rice noodles ($7.95). If rice noodles stir fried with curry chicken and shrimp doesn't sound inviting, I don't know what does.
Overall inexpensive with impeccable food, Rice N Noodle should keep the customers in the Las Vegas' Southwest area satisfied and asking for more. I know I will be back.